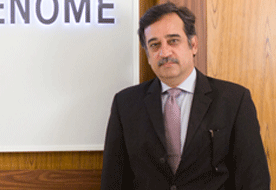 Aadhaar, which started as an identity proof has grown like a banyan tree covering welfare schemes, subsidies, scholarships, LPG, banking system, IT returns, and financial systems.o
It was conceptualized with the aim to give a unique identity to each Indian with the aim to make it a single platform to cover all government transactions of an individual with a bigger agenda to stop leakages in government schemes and tackle corruption. The goal - to ensure reach of government money to those who need it the most. The programme which started as a pilot, soon translated into the world's largest biometric identification system in no time.
But this is just a start, the real potential of Aadhaar is yet to be tapped. Healthcare is one huge opportunity for its application. Healthcare in India needs immediate attention given that in spite of spending Rs 6 trillion year on year, we are still not able to provide accessible and reliable healthcare support to our teeming millions who are fighting a heavy burden of communicable diseases and non-communicable diseases (NCDs) on their own. There is a need to revamp the healthcare ecosystem in India and Aadhaar can be a key tool in achieving this.
Aadhaar has the power to revolutionize healthcare by making it available to masses in an effective and affordable manner, including providing real-time data to map burden of diseases helping policymakers take real-time decisions to save lives as well as make healthcare more affordable and accessible. Government has started in a small manner by embedding senior citizens health data to Aadhaar but the real benefits will be reaped if this is expanded to include all citizens particularly the masses at the bottom of the pyramid. A straightforward application could be linking the applicability of a plethora of government healthcare schemes to Aadhar Card which can then be accepted by the healthcare provider to give free or subsidised healthcare to eligible patients.
Another major application is standardization and storage of healthcare data. Currently, this data is highly unorganised since hospitals, pharmacies, diagnostic labs, and clinics have their own ways of saving data and there is no interoperability. If the government is able to embed health data of all citizens, with prior permission given the security and data concerns, would lead to affordable and accessible healthcare to all. Aadhar can be used as unique identity to allow consolidation of all healthcare data related to an individual which then can be stored on a secure cloud and can be accessed by anyone with appropriate permissions. Example: Any person from a remote village can visit any doctor in the country without having to worry about which reports to carry. By simply using the Aadhar card of the patient which is linked to the cloud based system, the doctor can get access to the entire medical history of the patient, lab reports and accordingly advice on treatment which gets again fed into the same system.
Such consolidated data can be an effective tool provided it is beyond registries and is able to map the burden of diseases, treatment given and the outcomes, genetic analysis etc. In fact, it will help to easily infer, if any hospital has given any wrong treatment to the patient and suggest the right doctor for the particular disease management. Insurance issues, ethical issues and malpractices of doctors can be curtailed through this process.
Karnataka is inching a step closer to this by tracking patient's health from birth to death through an electronic medical system. But this being a one off case and in silo, won't yield results until it has been integrated and is available pan India.
Further, there is a serious question, if there is any guarantee of maintaining the database and secrecy of data? The government in this scenario needs to take help of the software experts who are the major contributors for our country's growth. Software experts can help create a secure cloud platform where the data is safe and is accessible only to concerned people only after verifying, after a thorough authentication process.
We have all the right things in place and all that is needed a government push to make this a reality.