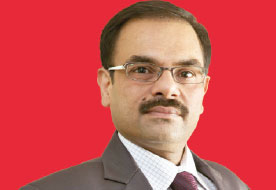 "How I see the banks today is more like technology companies. Shifting from products to platforms, embracing data and automation, adopting agile and AI is what will steer the digital transformation in the banking industry" - Mohit Kapoor - Head, DBS Asia Hub 2

Today, banking is not just about ATMs, payments or loans. It is about experience. So, there has to be more to banking - more which is joyful and personalized. The tech minds framing the banking experience for the customers have to be more than just programmers. They have to build a creative banking experience for the customers. But, how do we do it?

Embracing Journeys

The more you know the customer and their preferences, the more we can do to make the journey simpler and rewarding. Our customers, stir the most creativity in our engineers. So, we want our developers, data scientists and analysts to live more customer journeys
- now their requirements, likes, dislikes, how they spend their weekends, their lifestyle and more.

Innovation - How Many Scientists Can We Hire?
Simple! As many employees we can hire. It is just about creating the right ecosystem within the organization. What I mean by that is we crowdsource internally - ideas, solutions and creativity. Breaking the team boundaries and living one common mission is possible if there are right platforms. At DAH2 for example, we aim at having borderless engineering and collaboration beyond teams. A dedicated GARAGE within the workplace makes innovation a routine and not an occasional affair.

Add Colors to the Code; Black & White is History

I personally believe in enablement of sorts. My personal favorite is also the most basic one. I think our minds function much based on what we see and perceive subconsciously. Apart from the agile environment, open workstations, vibrant scrum rooms, a creatively designed workplace steers synergy and innovation. For example, at our office we have themes picked up from various countries, bubble couches, fitness workstations, vibe zone and even a racing car hung up the ceiling.

Play Into The Future

Cloud is no more a differentiator; it is now a basic necessity. Being data driven is inevitable. But, constructing a strong culture of innovation means to make employees of the organization experiment with the future - future needs, demographics, technologies and so on. I feel much inspired by the companies which are futuristic in their vision and execution. I think they are the strongest disruptors.

Plug in or Plug out

We recently launched one of the biggest API platforms in the banking sector. I feel it is one of the most inspiring steps taken up by DBS as it gives more room to all our engineers to think wider. It opens a plethora of substantial partnerships which steers open thinking, collaboration and more business.
Culture, according to me is the biggest enabler that inspires people to think beyond the existing. Innovation plays a key role in the future transformation and I am excited to see how the banking sector will evolve in the near future.