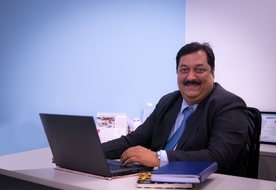 Headquartered in Mumbai, CyberPlat is an integrated electronic payment processing and distribution company for financial institutions, service providers & retailers. The company's strength lies in aggregating payment products, enabling micro flexible top ups and providing these set of payment products to various companies in retail, online, m-commerce verticals and those operating Kiosk/ATM networks.
1. One trend that is guaranteed to keep gaining momentum is the move toward secure wireless and mobile POS systems. What's your opinion on this?
Accepting payments on the go with a mobile device, which does the function of a cash register or electronic point of sale terminal, is a great model for those businesses which need to make sales away from their brick and mortar locations. It's also a great solution for small businesses who are not physically present in the market or who offer door step services. Convenience, affordability, scalability, and higher customer- merchant engagement rate are a few features of mobile POS systems which appeal to merchants of all sizes. However, having said this, the security demands of an mPOS system are bigger than a physical cash register. Chances of frauds and leaking of personal data are higher here. But, with NPCI launching the Unified Payment Interface (UPI) feature, the mobile payment industry is set to change for good. One will not need to maintain e-wallets, rather will be able to use multiple e-wallets seamlessly as they will be inter-operable with UPI; real-time and continuous service updating will be available; and the consumer will be able to use products of any bank on their mobile phones.
2. Despite payments with plastic – and, increasingly, mobile wallets – cash isn't going away anytime soon. Is it a good thing or are there any drawbacks to it? Share your views.
I do agree that cash isn't going away. We may never be a cashless society, but there are efforts being put towards creating one. The future generations will most likely drive this behaviour as they don't view cash as the most secure and convenient method of payment since they prefer to use alternative means like credit/debit cards and /or e-payment apps. Moreover, several geographies in our country still do not have high speed internet connections and the lack of this leads to lower penetration of mobile wallet applications. Unless, every merchant gets comfortable transacting through internet, till then the end consumer will pay via cash.
3. The introduction of chip-embedded payment cards and personal identification number (PIN) has minimized security concerns pertaining to sensitive data theft, which is expected to augment POS terminals market growth. What needs to be done here?
Yes, chip embedded payment cards and PIN nos have definitely made online transactions secure to a larger extent. This will surely boost the confidence of the users and increase transactions, both, online and offline. POS numbers in this country are roughly 5% of the total 15 million shop/store universe. And, banks and MPOS companies are making serious attempts to augment these numbers. Its time now that these percentages change so that we see an increase in the usage and it'll be due to these efforts, that in the coming years we will experience better results of card acceptances.
4. What is being done in context to the previous question? What is the development with security?
Introduction of EMV compliant cards and 2 factor authentication has provided reasonable security to transactions. There are other authentication methods that are being tested including voice, IRIS, fingerprints among others. While, finger prints have started seeing tractions, others need to be tested by consumers for installing confidence and greater security while doing transactions.
5. Which industry do you think will show a great momentum to push POS terminals market during 2015 to 2020? Put some light on it and elaborate how.
The industry that is currently driving the POS terminal markets are lifestyle companies and hospitality companies. But, in the coming years industries that may really push would be the mobile operators and FMCG companies, among others. They have the reach to non POS outlets and that is where we shall see larger transactions.Mobile POS systems are well equipped with features such as Wi-Fi, RFID, VoIP, and smart card capabilities which are highly versatile and are used primarily as data devices. In addition, they are used for sending digitized notes, checking prices, writing reports, sending and receiving invoices, capturing signatures, and managing assets at retail stores. These functions can also be used to exchange data within a store or other out-of-store locations through wireless applications. Mobile POS systems can also be coupled with Bluetooth-enabled printers to enable line busting for faster checkout during heavy traffic at retail stores. Thus, mobile POS systems help retailers to provide value-added services, with the requirements of speed and accessibility being accomplished.