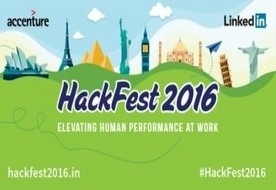 LinkedIn and Accenture (NYSE: ACN) are partnering to host HackFest 2016, a non-stop 20-hour challenge in Bangalore from Sept. 24-25 during which students from across India will have a unique opportunity to solve real-world business and human challenges through innovative approaches and game-changing ideas.
All final and pre-final-year students across graduation and post-graduation courses in India are eligible to take part. Each student participant is required to register individually prior to the event – the deadline for entry submission is Monday, Aug. 15.
– and teams of up to four students will be formed on the first day of the event. Topics and themes for the hackathon will be provided at the event. Students will need to hack, but not necessarily code, to conceive new ideas that elevate human performance at work.
"We created HackFest 2016 to bring together the best brains to help solve the world's most-challenging problems," said Ellyn Shook, Accenture's chief leadership and human resources officer. "When we think about the future of work, the solutions that worked yesterday will not necessarily work tomorrow. HackFest 2016 is a platform for extraordinary minds, representing multiple points of view, to develop inspired and innovative approaches that address some of the most difficult human and business challenges."
Pat Wadors, senior vice president of LinkedIn's global talent organization, said, "In a world where the next big thing can emerge in a flash, often with significant disruptions to business models, it's critical to get ahead of the game and invest in ideas that drive readiness and performance. It's exciting for us to work with this generation of young minds, who will become future leaders and the majority of tomorrow's workforce, to imagine what we can achieve together. HackFest 2016 is also an opportunity for students to inspire others as they bring to life fresh and innovative solutions to capture opportunities ahead of us."
The contest winners will be selected by a jury of leading executives, including: Ellyn Shook, chief leadership and human resources officer, Accenture; Pat Wadors, senior vice president of LinkedIn's global talent organization; Ranjan Malik, founder of STORM the NORM Ventures;Dr. S Raghunath, professor of corporate strategy and policy at the India Institute of Management in Bangalore; and Akshay Kothari, CEO of LinkedIn.
e business environment around us is changing rapidly and the growing population of millennials and Gen Z are forcing organizations embrace change. As we reflect on the ever-changing business environment, the one thing that stands out is how we manage and address human challenges at work. Accenture's Chief Leadership & Human Resources Officer, Ellyn Shook, and I talk about LinkedIn's involvement in this Hackathon – check out the video to learn more. I hope you'll find it both informative and inspiring. I'm looking forward to DREAMING BIG and seeing what our future can do together in 2016!
Each member of the winning team will receive new products from Apple, Bose and Motorola worth INR 200,000. Members of the second- and third-place teams will receive products from Bose and Amazon worth INR 100,000.