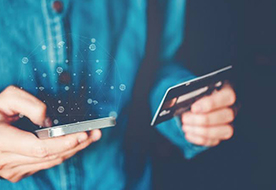 According to Statista, the total transaction amount via digital payment modes is the US $81,197m in 2020 in India. In CAGR 2020-2023, it is expected that the total transaction value will grow at an annual rate of 18.3 percent surging up to a total of US $ 134,588 million by 2023. Digital commerce is the largest market segment where a total of US $71,544 million amount was transacted this year. As an important part of the financial activity, digital banking has achieved premium status with highly advanced technology. The pre-digital banking era saw the bankers and customers sitting on benches, waiting in queues, or taking out tokens for completing a transaction.
Known as internet banking or online banking, digital banking came into operation way back in 1996 with the launch of internet banking by ICICI bank. With the introduction of Standard Cheque Encoder, Digital Transformation in Banking started where Magnetic Ink Character Recognition (MICR) was introduced. Being a repetitive job, banking requires intensive labor work. And as humans, during the stressed hours' workers commit mistakes at times. For reducing the mistake rate and accelerating the banking processes, banks started using computer technology and later installed private local area networks.
Since then, banks attracted more customers as customers got the facility to access their accounts from any of the bank's branches due to a Centralized Online Real-Time Exchange system. After that Automated Teller Machines, famous as ATM took over cash transactions making electronic transactions possible. This century saw the emergence of Real-Time Gross Settlement (RTGS), Immediate Payment System (IMPS), National Electronics Fund Transfer (NEFT), and National Electronic Clearing Service (NECS). In the past few years, mobile banking services and online banking services have evolved offering a plethora of benefits.
Benefits of Digital Banking-
Efficient Customer Service – As the internet is available to any banker and customer, a customer can access its account from a suitable device that not only saves time and travel expenses but also makes banking services hassle-free. 24*7 availability of the banking services has made it comprehensive for the customers to check account details, balance, or make a transaction from any part of the world.
Setting-up Accounts – Opening new accounts via mobile application has made it easy for banks to gain customer satisfaction. The latest technologies allow the customers to verify personal details, identification from their homes. Using smartphones, they can upload the documents quickly. With the help of artificial Intelligence, bankers can also analyze a customer's data that are applying for a mortgage, or check previous financial records.
Facilitating Synchronization – Mobile payment applications get automatically synced with a customer's bank account. This helps the customer to adhere to its budget. Spending can be tracked using applications from a smartphone or computer.
Digital Banks – Banks with only digital platforms have high-interest rates on savings. As digital banks have greater savings than traditional banks, they divide the savings among the customers. These banks do not require a high service fee or maintenance cost, provide efficient and effective customer service, and save electricity, paper, and other resources.
Using Augmented Reality – There are some banks in international locations offering Augmented Reality-based assistance to the customers and helping them to acquire loans. Integrating face to face assistance with technology has been a groundbreaking solution provided by digital banking.
India being a developing country has upcoming technologies that will add-up to the advantages of the digital banking process. The road ahead for digital banking in India is filled with innovations and more customers.