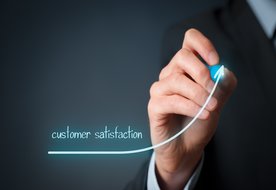 Customer Satisfaction is the most important factor for any business to be successful in a particular sector. Because customer satisfaction is the result of how happy and satisfied the customers are with the products and services offered by a company. Another feature that a company can discover through customer satisfaction is the demand for its products and services, and how can they further improve and develop its products and services offered. In order to progress and provide better customer services, the companies are implementing ERP solutions, which can help them in building a direct interaction with the customers and know how well a client or customer liked and appreciated their services. Also, if required which are the elements that a company requires to focus on according to development aspects.
By implementing ERP software a company can easily obtain customer feedbacks and know customer satisfaction level and what a customer is expecting from a company in the future. For example, most of the online shopping portals implement ERP solutions to record all the activities performed by a customer. Customer activities such as placing an order, keeping a customer updated with their order details until it gets delivered later getting customer feedback. All these actions will guide a company in knowing what are the demands of their customers? And their response to the services provided by a company. Following are some of the ways how ERP solutions can improve customer satisfaction:
1. Centralizing Product Delivery Operations:
ERP Solutions assists a company to provide all the required details to the customers about product delivery also, provides an estimated delivery date to the customers. Through these ERP systems, a company can provide all the details to the customers at one click. This direct communication with the customers can benefit a company in building a strong customer relationship with the new or existing consumers.
2. Provides an Insight on Customer's Behaviour:
ERP solutions can also be referred to as CRM software, a system that guides a company in understanding their relationship with customers. By implementing ERP solutions a company can know well about their customer behaviour using their buying history and what are their demands. By knowing customer's behaviour the companies will suggest and provide the products and services according to their preference and requirements.
3. Improves Customer Services:
By using customer feedback and various other data a company can improve its customer services and provide solutions. By knowing customer's experience companies can decide if any development is required in their services to maintain customer loyalty and to gain more new customers. ERP solutions can support a company in resolving the issues their customers are facing and avoid such mistakes in the future. This can enhance a company's service methods and maintain a faithful bond with their customers.
4. Communicating with the Customers:
The ERP systems can provide a medium using which a company can communicate with their customers directly. Most of the ERP software used by the companies in learning customer satisfaction and their experience will provide them with a feature to collect customer queries and ratings. Also, using ERP solutions a company can directly communicate with its customers to resolve their queries.
5. Notice the Demands:
Every company plans its production rate of goods and services depending on their demands in the market. ERP solutions open doors for a company in noticing and knowing about the demands their product and services have. If the demands for a particular product are high than a company has to match their demand and supply levels and if demand for a product or service is reducing than through ERP the firms can know about the aspects required to be improved.
All the elements required for customer satisfaction are been linked internally. ERP solutions will assist a company to know and understand more about their customers and their expectations. This will help the companies in improving their customer services to provide quality services and standard products for their loyal customers and also maintain a strong rapport with their new customers.