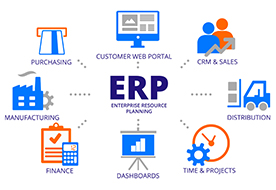 Enterprise Resource Planning – Popularly abbreviated as ERP is implemented by large scale companies as well as small scale companies and growing businesses. It is because of its benefits like cost efficiency, enhanced productivity, customer satisfaction and smooth workflow, companies prefer enterprise resource planning software.
Companies are able to check the internal and external processes, manage sales, update inventory and plan finance, marketing and human resource activities with the help of ERP solutions.
Companies get the upper hand on saving more money, improve collaboration with business associates and remove risk chances when the business expands all with the help of ERP solutions.
So, what are the Top Most Useful Types of ERP SoftwareTo Have? Let's find out.
Manufacturing Software – When it comes to production, a company must have manufacturing software to increase net production value. Most manufacturing software provides supply chain solutions that are involved in ERP financial solutions, business analytics and planning. Manufacturing software keeps the entire focus on the distribution needs of the companies. And all applications are merged in a single manufacturing software helps companies to remove any confusion in everyday work. Therefore profit is more with time-saving and minimized blunder.
Commercial Operation Software – Making commercial operations more efficient through inventory management platform and cloud-based ERP solution, commercial operation software is a topnotch performer when inventory management operations, solving tough business challenges related to purchase and sale is considered. Generally, commercial operation software is a B2B solution provider, allowing the companies to market products in wholesale markets. Other than this, commercial operation software has Customer Relationship Management, Demand Forecasting, Order Fulfillment and Accounting and Sales Reporting features within it. It can help in integrating different e-commerce platforms to businesses. Users are able to generate reports and updates to keep track of business activities with commercial operation software.
Cloud-Based Resource Planning Software –A cloud-based enterprise resource planning software has solutions in customer relationship management, accounting, payroll and operations. The software is needed by large and small businesses to diversify business operations and solve business needs. Scheduling work and manufacturing processes, leveraging bills, management of inventories and quality, accounting and user subscription and pricing are solved by cloud-based resource planning software in efficient ways.
Software For Food/Beverage Production Companies – Complex business processes in the food and beverage industry are solved by tailor-made software that is capable of changing sales system and internal workflow. Dashboard and ticker help in the managing insider list and insider communication, which give business data and state at any point to a business user. Users are allowed to Lot tracking/batch tracking, material planning, procurement, item grouping to unlimited levels, evaluate suppliers based on different parameters, evaluate LIFO, FIFO and weighted average based stock, support inbound and outbound logistics, budget and forecast, human capital management, sales order management, queue management and compare planned against actual analysis with an ERP software for food and beverage production.
Software for Construction Companies – Efficient software for the construction companies are there to help in accounting, project management, job costing and managing subcontract. Some of the important aspects of the software for construction companies include making reports considering every business factor, adding Microsoft office suite, approve documents and design configuration.
From every business corner, business heads are able to save money and make gain using ERP software solutions like these. Selecting the proper ERP Software is what needed to make your business standout among others.