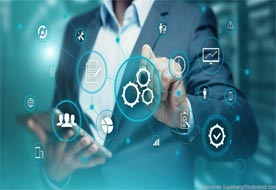 Wipro Ltd. (NYSE:WIT), a leading Global Information Technology, Consulting and Outsourcing company, recently announced the launch of its 'Finance and Accounting Business-Process-as-a-Service' (F&A BPaaS) solution for enterprises. Developed in partnership with NetSuite (NYSE:N), the industry's leading provider of cloud-based financials / ERP and omnichannel commerce software suites, Wipro's F&A BPaaS is a comprehensive, end-to-end business process solution that can help improve business agility, user experience and process efficiency.
Wipro's F&A BPaaS is built on the industry leading NetSuite platform, along with best-in-class Wipro process capabilities in finance and accounting. The solution empowers customers to selectively manage and control their finance and accounting processes on a standardized platform, in a 100% variabilized cost model. It also enables rapid implementation of business processes, improves compliance standards, and provides operational readiness, leading to significant cost savings.
The F&A BPaaS solution enables enterprises to manage their global F&A operations, with extensive management reporting and analytics capabilities, that would allow them to measure their current process performance and set a goal for improvement. The solution also measures and improves a set of pre-defined business outcomes.
"As enterprises renew their focus on agile finance and accounting processes, there is an intensifying need in the market for a platform that can provide end-to-end F&A solutions in an 'as-a-service' model. As a result, enterprises are increasingly moving to innovative cloud-based models. Leveraging Wipro's comprehensive cloud services proficiency and business process expertise, the F&A BPaaS solution helps organizations in process harmonization, optimal organization design and change management, offering transformational benefits to our customers," said Jeff Heenan-Jalil, Senior Vice President & Global Head, Advanced Technologies & Solutions, Wipro Ltd.
Jim McGeever, COO, NetSuite, said, "NetSuite's unified cloud-based business management solution, along with Wipro's strong NetSuite capabilities, operations and process management tools, provide the backbone for the F&A BPaaS Solution. Wipro's heavy investment in NetSuite, coupled with its domain expertise and process capabilities in accounting and financial management make it the ideal implementation partner for F&A BPaaS."
In May 2013, Wipro was awarded NetSuite's 'BPO Partner of the Year' for the successful F&A BPaaS implementation for Global Payments, a leading payments processing company.

Rubens Silva, CFO, Global Payments Brazil said, "Wipro executed a Business Process as a Service (BPaaS) solution for enabling the Finance, Accounting and Payroll business processes end-to-end, for our Brazilian operations. The solution platform was deployed in 5 months, to provide operational efficiencies and full regulatory compliance, in an innovative zero-capex business model."