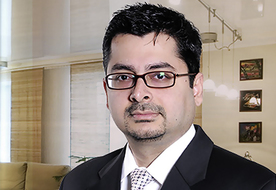 The foundation of the new digital economy is built on the changed behaviours and attitudes of people who increasingly rely on digital technologies - primarily enabled by the internet. But the Internet is continuing to evolve. Initially it was the static Web, and now it is social, mobile, cloud computing and wireless networks. However beyond the technology (open, simple and distributed), the Internet's culture of collaborative innovation keeps having a transformative impact on businesses, communities and institutions.
In 2008, the number of devices connected to the Internet exceeded the number of people on Earth. And these devices are not just smartphones and tablets. They are everything around us - from smart televisions to interactive coke machines, from motivated running shoes to the interconnected cows and more.
While social networks (network of connected people) is reaching saturation, the 'internet of things' (network of connected things, as well as things and people) is gaining traction. According to Cisco, by 2020 there will be 50 billion things connected to the internet! Every person, animal, and thing could be connected.
When billions of things are connected, talking and learning from each other, imagine what this means for the future of the government and businesses.
In this growing trend of hyper-connectivity between person-with-machine and machine-with-machine, potentially everything could become media. In other words, it will be possible to create a media channel of (pretty much) any thing, thereby allowing brands to communicate by owning or paying for these new media touchpoints.
How Every Thing can (potentially) become Media
Firstly, according to Wikipedia, Media is anything that can carry a message or be a meansof communications. As we know, digital devices and technologies (powered by the internet) enable consumers to connect, engage, consume and experience brands; but as physical objects begin to embed digital technologies or become digitally-enabled, any "thing" around us can become media that can be either owned, earned or paid for.
To transform any "thing" into media that can be consumed or experienced, brands will need to digitize it in a way so that they are able to communicate with the consumer or interact effectively for a desired outcome that can be measured. With digital media, such an experience comes with the medium, however for traditional media, digital technology will need to be embedded to provide brand engagement.
With Virtual Reality, NFC, RFID, wireless sensors and other pervasive technologies starting to bring traction to the Internet of Things (IoT), the vision of transforming any thing into media for brand connect is becoming a reality.
In India, as the smartphone continues its disruptive influence, IoT will become more prominent. As brick and mortar businesses begin to harness these two areas more effectively to bring the physical and online worlds together, we will see heightened experiences for consumers.
Break down silos to innovate, or die!
2015 saw consumers getting spoilt by start-ups with same-day delivery and 365 days of mouth-watering discounts. These start-ups nailed customer experience and redefined technology-enabled services as we know it!
Furthermore, the government's emphasis on building digital infrastructure in 2016 and beyond will increase technology-enabled services across urban and rural markets.
Also with the explosion of interconnected devices, there will be a plethora of touchpoints to connect with consumers. Companies will need to use the right technologies to leverage changing consumer behaviours and attitudes for brand connect and engagement, that ultimately lead to a sale. All these factors now lead to even higher expectations from citizens and consumers in general.
While change is in the DNA of start-ups, it is hard for well-established businesses. To survive, established companies will be forced to innovate, improve their service levels and adopt digital technologies to increase business performance. 2016 will be seen as the year for Digital Transformation for public and private sector companies.
Developing a discipline of innovation through information will enable organizations to respond to customer, employee, product or environmental changes as they occur. To enable the next frontier for innovation, competition and productivity, companies will need toallow consumers to access information in anywhere, anytime. In the foreseeable future, companies that do not leverage smart data to innovate will be forced to seize operations!
Now is the time to put the customer at the center and positively impact lives in a growing economy like ours. It is no more the responsibility of the CMO alone to drive customer centricity in a company. The CIO or CTO has a prime-time opportunity to drive collaboration between cross functional teams that currently exist as silos, such as marketing, sales, customer service, finance, HR and IT. The Technology function now needs to break down these enterprise silos forsustainable innovation.