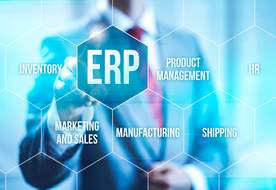 The education sector around the globe now is developing and expanding quite rapidly. The sector has grown to be a great service sector where global universities/schools/institutes are coming to India and tying up with Indian educational institutes, creating demand for a quality ERP system.Globally more than $20billion is being invested in the education sector. Sensing this opportunity, Bangalore based Mindcom came into being to help institutes and organizations evaluate and select ERP software, manage the implementation of the software, and facilitate all related organizational changes to assure that each of its clients realize the full business benefits of the ERP services & implementation. "Our corporate background allows us to carefully identify and partner with select organizations. This engagement - including the guidance, resources and new technologies we provide enables them to dramatically transform their day-to-day operations, improve efficiency and increase profitability. We are currently a centre-of-excellence for many of our long-term enterprise clients. Often acting as an extension of their development teams, we have built a flexible, quick-to-scale delivery team with a unique blend of process-centric talent management," avers Piyush Singh, CIO, Mindcom.

Mindcom has broadened its services horizon and used its detailed ERP solution to build a web based and user friendly Campus Management System catering to Pre-Schools, Schools, Colleges and Universities. "Mindcom CMS is a collaborative platform offering large set of modules that are designed keeping in mind all kind of requirements and activities that take place in any kind of educational institution. It is an easy to customize ERP system that can be operated from anywhere and can integrate all functions on a single platform.It provides easy to use features across all set of users and an effective communication model. Our Analytics System brings together client's data and turns it into useful information for speedy decision making," he explains.

Other than catering its services to the education sector, Mindcom also helps the automotive industry by leveragingits extensive skill sets on manufacturing to blend IT benefits into their existing processes."In a short span of time, we have successfully delivered our services to not only educational sectors but also other segments of the market which requires ERP. Within a space of five years, we have been able to win the hearts of three to four multinational clients", he adds.

Since its inception in 2007, Mindcom has always focused on providing value added services, innovative solution, and products that has always satisfied their clients. From small to big, Mindcom has proved that with hard work and dedication, any organization that can reach up to the limit of the sky. In the years to come, Mindcom envisages being among the top three quality providers in the ERP space catering to various education institutes across the globe. "We look forward to be a leading organization with exceptional customer focus and a dedication to innovation, consistent execution and teamwork in everything we do," concludes Piyush.