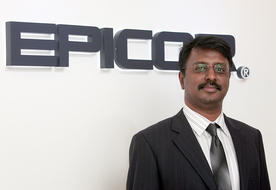 Today the Indian economy is growing faster than any other major economy in the world, with the latest Economic Survey predicting India's Gross Domestic Product (GDP) to grow between 6.75% to 7.25% in the next financial year. This positive growth in the overall economy is reflected in the rapid growth in the manufacturing sector, which is driven by the government's "Make in India"programme. This aims to increase the share of manufacturing in India's GDP, andto position Indiaon the world map as a global manufacturing hub. Indian companies are taking advantage of this to boost their existing manufacturing facilities and set up new operations thatwill equip them to compete on a global scale.
The current positive business climate in India presents Indian manufacturers with many opportunities for international growth. Whether businesses are expanding domesticallyor internationally, any type of geographical expansion will create new challenges, which can range from the management of shipments and inventory, to multi-national currency and linguistic requirements.
In this scenario, enterprise resource planning (ERP) solutions are critical.
Outlined below are nine key considerations for a successful international ERP rollout.
1: Start lean
Most companies rely on a lean ERP solution that focuses on industry and countryspecific functionality when they first open new operations overseas. However, the solution should be prepared for growth or expansion, so it makes sense to opt for a scalable and flexible ERP architecture with appropriately adapted license and operating costs.
2: Operate flexibly
Flexibility is a key requirement when you start to operate in new regions. This means that an ERP solution has to take into account a large number of variables, such as the size and function of operations and the changing needs of IT. Cloud, managed services and hosting models are available as a choice, saving significant time, effort and costs. However, it is important that a change in the operating mode is supported at any time by the ERP vendor.
3: Plan for the long-term
Long-term plans are an important part of key decision making when selecting ERP software. How far can the software vendor support possible subsequent internationalisation plans with language versions, user and administration support as well as implementation teams?
4: Think locally
Finance and compliance require country-specific functionalities from an ERP solution that are either already envisaged or are easily covered by the integration of third-party solutions.
An ERP vendor should have experience in this area in order to avoid later rework or costly risks due to a lack of compliance.
5: Control centrally
The insight gained from centralised, real-time data management, combined with consistent processes for all operational locations, enables companies to set goals across different sites, optimise processes and make the most out of new sales opportunities.
6: Upgrade old technology
If existing ERP solutions are already at performance limits, make sure the latest softwareis updated before expansion. The main advantage is that necessary fundamental system updates for international ERP expansion can be implemented simultaneously—for example, data consolidation, process modelling or mapping of organisational changes.
7: Check the team
The experience of internal IT departments is a key factor when considering vendor support for international ERP rollout because these types of projects often require new skills in areas such as project management, and intercultural cooperation. ERP providers provide scalable support for this, at the same time as delivering the necessary tools to ensure independent software operation in the long term.
8. Measure success
Performance indicators are overlooked all too often but measuring how an ERP solution has been successful in enhancing business processes is important in ensuring the same processes are used across the entire organisation.
9: Create standards
In ERP rolloutsthat span several countries, the initial projectisused to develop, test and document transferable standards and templates. The advantage is that follow-up projects prevent repeat errors spreading out across an organisation.
Whether you're already a global company or you plan to expand internationally in the future, you know that your business is only as efficient and effective as the solutions you use to manage it.
For international manufacturers, these tips provide a good basis for planning and structuring an international ERP rollout, as well as identifying the right partner. International expansion is a chance to review existing IT requirements for enterprise management and replace outdated technologies. Best practice such as this helps to determine the success of expansion, and ultimately, the future growth of the company.