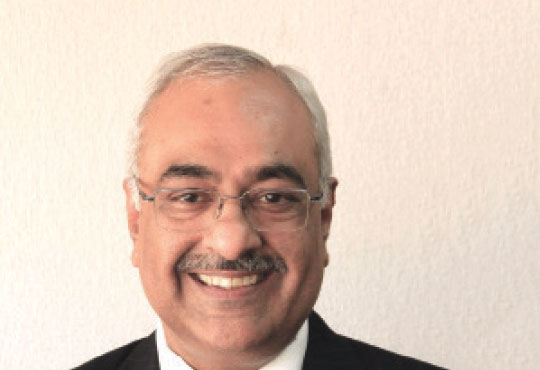 We live in the VUCA World. What appears to us a solu­tion today is clichéd tomor­row. We live in a Connected World. Our lives are becoming increasingly connected to both living and nonliving objects.
Smart technologies change to smarter machines. The new IT reality is evolving around newer tech­nologies and platforms that support the advance­ment of a digitally connected world. In a business climate driven by powerful digital forces, disrup­tion, and rapid-fire innovation, every company is now in a transition. Moore's law is impacting every Industry and every Business.
In the past, technology was confined to the back-office and to IT landscapes, owned and presid­ed over by 'mighty' CIOs. Today, its digital expres­sion is impacting every CXO and is cutting across all aspects of business from ideation to bringing new customers to driving the customer experience and deliverance.
Robotics:
When it comes to robots, reality still lags science fiction. Who would have imagined that a reputed media house US would deploy AI-powered robot called Heliograf to cover Rio Olympics this year to work alongside its team of sports journalists in cov­ering the mega sporting event!
The count of robots on the earth is reaching 1 million with nearly half of those in Japan and only 15 percent in the USA which are yet again used in primitive industries. With Robotics Intelligence, the prediction percent has reduced to 0.003 percent per million trials. China has launched a robot revo­lution and has agreed to invest 154 billion USD in developing robots to increase productivity and ef­ficiency across various industry segments and hence this would cost workers lose their jobs. Amazon has bought a company named Kiva Systems and is har­nessing multiple opportunities to build Robotics as the prime logistics carrier and also for computing and sharing large chunk of data through Cloud Ro­botics.
Cloud:
Data assets are now as precious to companies what oil resources are to nations. This means, any Cloud service provider looking to cement themselves as a mis­sion critical foundation for companies needs to make a play for all of an organization's data on their platform. The idea of a building an enterprise data lake in the Cloud has already begun to take hold. It's especially at­tractive given cheap storage options that the Cloud play­ers provide while hosted solutions do not require any upfront capital expenditure. This has especially come as a shot in the arms of the startup companies who pre­fer to go with Hybrid Cloud as they are efficient in all respects. The margin of error for Cloud could be in a range of 3.05 percent to 3.09 percent when calculated against 1000 trials. There's a significant increase in pri­vate Cloud adoption from 63 percent to 77 percent and companies are eyeing for Hybrid Clouds, the adoption of which rose from 58 per cent to 71 percent YoY basis. Security is no more perceived as a big concern for cloud service providers with the advancement of technologies. Among the Cloud Services Providers, AWS continues to lead the market though Microsoft (Azure) is fast catch­ing up to challenge the former's dominance in this space.
Pharma:
It's fascinating to witness how disruptive innovations can truly change the way healthcare is delivered and medicine is practiced. Enormous technological changes are heading our way. However, if they hit us unpre­pared – which we are now – they will wash away the medical system that we know and leave it purely as a technology-led service with no personal interaction. Such a complicated system should not be allowed to just wash away; it should be consciously and purposely re­designed, piece-by-piece. If we are unprepared for the future, then this opportunity will be lost. Healthcare is still surrounded with primitive monitoring systems and new age machines. The major issue which is being faced by the Pharma sector is the demonstration of compli­ance in such complex landscape. It is estimated that a batch record requires 16 hours to create and can take up to 48 hours to review. On top of this, it is estimated that 10 percent of all entries contain errors, which need to be rectified by the quality team before the batch can be released. Medical decisions are increasingly powered by artificial intelligence and machine learning technolo­gies. Cognitive computers, such as IBM Watson, have been used in many ways to analyze big data, not only in genomic research but also in biotechnology. This will change the way new drugs are discovered.
Perhaps if there is one area where we will see pro­found impact of technologies, it's going to be Health­care. Smartphone will be able to do 70 percent of what a medical practitioner does today.
The rapid pace of change and consumer-led innova­tion is driving transformation across every industry. We live in interesting times. The way we work, live, play and learn. All are changing and changing simultaneously, all at once. We have never witnessed such parallelism in the past. The past is going to be truly breath-taking. Do not blink, you could miss a Transition!