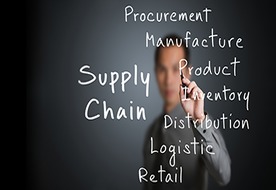 Companies today are being energy efficient. There is considerable awareness about going green and reducing carbon footprint. However, one aspect that they might be overlooking is the energy spent in the various links of the supply chain. If one can manage supply chain energy efficiently, carbon footprint would reduce drastically.

Over the period there has been a shift in the perspective of the supply chain process. The focus has been shifted from reducing cost to reducing carbon footprint. The modern day manufacturers are looking at ways to reduce carbon emission. They have a broader target of reducing cost using the energy efficiently, reducing the wastage, having better productivity and so on.

In the coming years if the organizations think out of the box and collaborate with the supply chain of the other organizations, then there will be opportunities of reducing the carbon emission using the best technology generating better profits.

'Piggy bank' issues: Where and What to Save?
In supply chain there is a great scope for promoting energy efficiency, reducing costs & decreasing the environmental footprint of consumer goods. The energy & commercial efficiency can be achieved by engaging leading companies to identify high quality suppliers. There can be a single supplier for many companies and he would do the manufacturing activity of all the companies under the same roof. The supplier will follow the SOP for each and every company as defined by them. This will create sector-based collaborations for improving supply chain energy efficiency by assembling groups of peer manufacturer within a supply chain and using benchmarking and process capability analysis and best practice sharing to identify and improve energy efficiency and industry competitiveness. The cost of the goods will decrease as the supplier will get the benefit of bulk purchasing of raw material, 100% utilization of the plant capacity and energy to run the plant, elimination of wastage and so on. On the other hand companies can also reduce the carbon footprint by initiating certain practices on the distribution front.

Today, most of the companies operate out of dedicated facilities and have a dedicated logistic supplier taking care of operations. The companies can also look for 3PL suppliers who can handle multiple account from the same facilities hence the concept of shared resources can be utilized by doing so the company can reduce the overall logistics cost as the warehouse facility, manpower, transportation, electricity are on sharing basis and this will also reduce the carbon footprint.