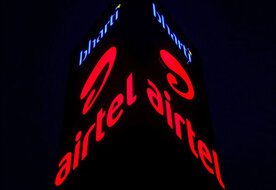 Bharti Airtel is preparing for a 5G battle with Mukesh Ambani-led Reliance Jio and has claimed its end-to-end readiness to launch the high-speed technology in the country immediately after the availability of 'adequate' spectrum. It has demonstrated live 5G services on its commercial 4G network in Hyderabad using 1800 MHz band.
The Sunil Mittal-led telco said that it can commercially launch 5G services without the mid-band with the help of existing 4G spectrum bands but it will wait for the government to release 5G spectrum, especially in the mid-band.
Analysts said that Airtel is looking to position itself as the main 5G telecom operator in India. The announcement made by India's second largest telco follows Mukesh Ambani's claim that Reliance Jio will launch 5G using its own technology in the second half of 2021.
Gopal Vittal, chief executive officer of Airtel, said that the telco can commercially launch 5G services without the mid-band as its network now fully supports the high-speed technology.
"When we launch 5G and make it available commercially, it must have a full power of 5G instead of marketing. Delivering experience is a must and you need more spectrum, especially in the mid-band. That doesn't mean 1800, 2300 and 2100 MHz can't be used...true 5G will be enabled through mid-band," Vittal added.

He, however, added that it is premature to launch 5G using existing 4G bands since the 4G ecosystem for devices and applications is fairly matured. "We have been working on this since last one year to make our networks 5G ready. It is a flick of a button. It is important to have the right amount of spectrum for true 5G," he further added. Randeep Sekhon, chief technology officer of Bharti Airtel said that there are already a million 5G devices active on the telco's network, which are broadly priced in the range of Rs 25,000.

"Pricing will play an important role and we feel that prices need to fall between Rs 10,000-Rs 15,000 range for mass uptake. 4G was successful due to lower prices. We will work with all device partners to bring 5G smartphones to support all new and existing bands and technologies like dynamic spectrum sharing," Sekhon said. Airtel, however, reiterated the need for the adoption of global 5G standard in India for the 5G roll out and for a flouring ecosystem of applications and devices.

"The more widely embraced ecosystem, more innovation can happen. That doesn't contradict make in India. We also embrace it fully and encourage partners to make it in India. The ecosystem should be a common global ecosystem to be able to get lower prices and interoperability. That's an advantage of the standard-based ecosystem," Vittal said.

Airtel is also exploring OpenRAN technology for the deployment of 5G along with existing 3GPP-approved NSA (Non-Stand Alone) and SA (Stand Alone) ways of deploying the technology. "We are happy to adopt any technology that can give us lower cost and best quality and experience. 5G is moving towards open and interoperable interfaces across the world. Traditional and newer players are embracing open standards," Vittal said.

Sekhon said that Airtel is engaged with several companies to explore the possibilities of the OpenRAN technology for 5G in India. Jio, on the other hand, is looking to deploy 5G using SA with the help of its own 5G core. Airtel also called for an ecosystem development for 5G technology in India, which can play a crucial role to drive innovation and 5G use cases.

"Some innovations and use cases will be developed by us and some by partners. 5G is not only for speeds and will not be the best use of the technology," Vittal said. Asked if Airtel will charge premium for its 5G services in India, Vittal said it is too early to decide on the pricing. He, however, added that ARPU in India is low and needs to reach Rs 200 and then Rs 300 over a period of time.