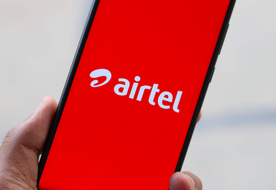 Bharti Airtel has entered the $10 billion digital advertising business, taking on the likes of Google and Facebook as the telecom operator focuses on transforming into a technology solutions provider to businesses through access to its over 320 million customers.
"Airtel Ads allows brands of all sizes to curate consent based and privacy safe campaigns to one of the biggest pool of quality customers in India," Bharti Airtel said in a statement on Wednesday.
The company's chief product officer, Adarsh Nair, told ET that Bharti Airtel had clocked nearly Rs 100 crore in annualised revenue in the ad tech segment during the beta launch and that it had run successful campaigns with more than 100 brands in the country and delivered eight billion impressions per month.
He did not comment on the revenue targets for the coming years, though, saying the company's focus is currently on building business to deliver high conversion rates rather than simply "vanity metrics" such as customer impressions to its clients.
"Early advertisers include PepsiCo, Zomato, CRED, Tata AIG, Lenskart, Apollo 247, Cars24, Gameskraft, Vahan and Harley Davidson," said Nair.
The foray into digital advertising comes with Airtel making a concerted effort to drive its non-telecom businesses housed under Airtel Digital and make it a parallel company to the telco - instead of its subsidiary - and open up monetising opportunities.
Digital advertising currently accounts for about $2 billion out of the total $10 billion advertising business and is set to grow to $8 billion by 2025. "The total advertising business is expected to grow to $19 billion by 2025," said Nair.
Through its targeted and customised advertising solutions, the company is hoping to eliminate some of the $3-4 billion that goes to waste, said Nair. It is focusing on direct advertising and delivering customised content-based ads to clients, even though it has a programmatic arm to deliver ads to customers, he said.
"Custom solutions for the top 100 brands in the country will be a focus area," said Nair. In doing so, Bharti Airtel will leverage its users across various platforms and apps such as DTH, Airtel Xtreme and Wynk Music and even Airtel retail points. The company said that using its deep data science capabilities, it will provide customers with only the most relevant brand offerings through its hyper-targeted offers and not unwanted spam.
Nair maintained that data privacy of customers and customer consent would be fundamental to the company's advertising business and because of the structure of the ad platform, no customer data will be shared with intermediaries.
"An Airtel user on Wynk, for instance, will see an ad based on the deep data learning of the customer's spending pattern. The customer will then be asked whether she/he would like to know more and, if yes, then the customer will be directed to a new page. Now, because there won't be a third-party system/intermediary involved, the entire journey of directing the customer from the Wynk app till the ad will be controlled by Airtel and this will lead to complete control over customer data," he said.