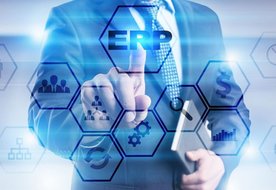 Employees are the greatest assets for any organization and HCM software helps the organizations to manage them immaculately ensuring their comfort and satisfaction. As most of the leaders stay focused to achieve the prime objectives of the company, they pay the least attention to HCM systems. Starting from storing employee information and managing their payroll to keep track of their daily activity, HCM modules perform the job of a manager or administrator so that the company can focus on its core objectives. With a responsibility to handle loads of tasks per day, many companies are opting for HCM Integration or a combination of ERP and HCM (HCM ERP) to obtain a more effective result. There are many HCM ERP tools available in the market which can help an organization in effective human capital management and some of them are SAP, Oracle, workday, skillsoft, and many more.
Some of the advantages of integrating the HCM and ERP to ensure a much better and enhanced workflow are mentioned below:
Daily Report and Analysis: Collecting and analyzing loads of information about the employees can be very much hectic as well as time consuming. Starting from the daily working hours to the number of leaves taken, and payroll management, processing a huge amount of data is not an easier task. Providing a single cloud platform to collect and analyze the data, ERP enabled HCM platforms can be very useful in obtaining the daily report of employees.
Security and Administration: Security is a common concern now as a data breach can happen anytime. When the HCM, ERP and CRM environment executes and runs independently it is easier to suffer from a breach of information and loss of data. However, equipped with a Single Sign-On (SSO) mechanism, HCM ERP platforms ensure optimum security. Protected by ID and passwords used to the users for login, administrating the security purposes in integrated ERP and HCM is much convenient.
A Single Source of Data: When data are stored in different platforms accessing them becomes tough and leads to numerous errors. Entering, storing, managing, and accessing data from a single integrated platform is a better choice as it will be less time consuming and more accurate. Most of the companies are now combining the HCM along with ERP to obtain, a customized and more advanced platform for storing information.
Self Evaluation: Managers are also employees. While paying attention to fellow employees, most of the managers fail to track their own progress. By a single platform to assemble and access the data, Managers can self evaluate them and opt for any improvement needed to enhance their efficiency and productivity.
Employee Satisfaction: When the workforce will be provided with a technology that will reduce their extra work and help them to focus on the core objectives to enhance their productivity, they will feel relaxed and contribute more for the betterment of the company.
Enhance Business Process: An integrated ERP and HRM platform will ensure a single and uniform execution of work. Compiling all the necessary business requirements important for human resource management, integrated ERP enabled HRM platforms to ensure an enhanced and augmented business process.
Advanced cloud platforms can integrate the ERP and HRM applications which are almost similar to generate a more advanced outcome. Channeling a better outcome with finer and obvious results, integrated ERP and HCM platforms are slowly gaining recognition in the corporate sector.