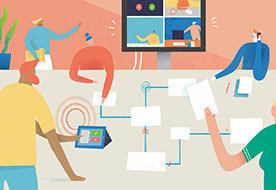 Adding maximum value to the organization, today ERP is considered to be one of the core business applications supporting the unblemished functioning of many enterprises. Essential for the integrated management of the business processes, ERP assists in real-time through a chain of optimized and advanced software. In a time, when success in the market is primarily dependent on the velocity and accuracy of products and services, ERP has emerged as a solitary solution in the corporate sector by handling complex and critical business processes. Automating the daily functionality of an organization, ERP administers almost many crucial sectors of an enterprise including services, technology, and human resources.
To understand the mechanism of ERP and how it helps to ensure an improvised maintenance and flexibility for an organization, the below-mentioned points can be of assistance.
Streamlining Business Processes: By assembling all the business processes in a centralized location, ERP helps in streamlining the business processes by monitoring them as a single unit. Accumulating various data and information from distinctive resources, ERP applications ensure a systematic and uniform flow of business data which strengthens the overall functionality of an organization. Interconnecting the various departments in an enterprise through various channels, it is easier and faster for an ERP solution to provided customized solutions based on specific operational needs.
Production Automation: Automating most of the repetitive processes, ERP reduces the extra burdens of manual tasks such as engaging with the customers, billing, and reporting. This adoption of automated processes also reduces the chances of human error and time consumption. The possibility of data duplication is also avoided as each and every data is processed and analyzed to ensure an enhanced and automated flow of the process.
Optimized Data Security: Implementation of ERP in the business process ensures a high-level and optimized data security. As it allows the merging of interdepartmental data through a single and unique system of data input, both on-premise and cloud-based ERP systems provide data safety by ensuring an additional level of security. Taking highly advanced round-the-clock precautions for data safety, ERP enabled process holds a strong backup of all the assembled crucial information.
Asset Utilization: By streamlining and automating various business processes, a properly implemented ERP guarantees the involvement of all prominent assets in the production mechanism. Owing to this, many crucial assets become available for innovation, value addition, and customer-oriented activities. As a result of strategic scheduling and planning, the involvement of capital assets of an organization such as machinery, equipment, and tools in the production process also increases, which can significantly increase output and decrease downtime.
Mitigation of Risk: By ensuring a highly administered and stabilized ERP enabled business process, the business adapts quickly and responds better to the changes happening in the market with time. Owing to its versatile nature, ERP changes its business models and processes as per the current market demands by taking control over any kind of variations introduced in the business system and reduces the chances of any possible error.
With the flexibility of ERP, not only the organization is benefitted but also the employees feel motivated and empowered resulting in high productivity and performances. Along with the advancements of technology, ERP is also undergoing many alterations and enhancements to yield maximum productivity for corporate enterprises. Enabled by AI and IoT, the technology industry is escalating rapidly, which gives us hope to expect more surprises from ERP in the future.