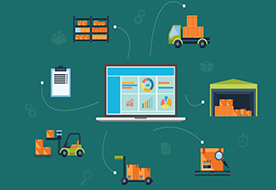 Though the need for preservation and distribution of goods has led to the invention of the warehousing concept, it has witnessed a lot of improvements in the past few decades. With the intervention of technology into industrialization, warehouse management has undergone many significant changes such as digitization, customization, and automation to satisfy the demand of current manufacturers, distributors, wholesalers, and exporters. Since the industry is now envisaging the implementation of ERP in business processes for enhancing operational efficiency and streamlining business, integration of ERP in warehouse management is also considered to be a resourceful and effective initiative. As per a recent study, a perfectly monitored and ERP integrated Warehouse Management System (WMS) can boost the shipping efficiency up to approx. 65 percent. The integration of ERP in warehousing has enabled the companies to hold a better grip over the supply chain, inventory management, and logistics operations.
For understanding it more aptly, let's take a closer look at how the implementation of ERP in warehouse management is deriving the overall business efficiency:
Effective Administration of Storage Facilities: Management and supervision of storage facilities within the ERP framework can be easily optimized as per the requirement. Assisting in shipping, tracking process of ongoing works, batch production management as well as returns and exchange facilities, integration of ERP ensures transparency and flexibility within the storage facility. Balancing the multiple storage facilities with efficiency, meanwhile focusing on store control, ERP integrated warehousing sets new and innovative standards of warehousing management.
Financial Management: Integration of ERP with warehouse management lowers the risks of data redundancy thereby ensuring the highest accuracy. It assists in verifications at inventory level, coordination of workers and supervisors, data handling, information processing, and many more, eliminating any possibilities of casual errors which might lead to monetary loss for the company. While managing multiple facilities data redundancy is a frequently occurring aspect gradually leading to a loss for many organizations. By implementing ERP in warehousing management, the chances of data redundancy can be minimized significantly.
Customization of Warehouse: Customization of the warehouse as per the demand of business and market can be a benefiting factor for the company. Selecting modules and customizing them as per the suitability of business operations can improve business functionality. The setting of quality standards for storing goods, organizing them as per batch numbers and setting up company policies for transfer of goods can prevent storing items that are not quality verified.
Better Productivity: An advanced and ERP enabled warehouse management facility helps the business to complete major yet complex operations within the same time frame. By keeping an eye over the quality check and proper storage of important information leads to the enhancement in production efficiency. It also provides more time to focus on other organizational objectives meanwhile ensuring effective warehouse management.
Higher Customer Satisfaction: Owning an ERP enabled warehouse management system holds its own set of perks including sufficient availability of products in stock. This helps in the immediate supply of goods in any quantity as per the customer requirement along with the replacement of goods in case of customer discontentment. Also, the functionalities facilitated by the ERP integrated warehousing such as data management and error reduction result in better customer services.