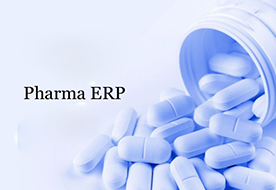 These days operating any business with utter precision demands the help of software systems. The pharmacy business is also included in this bracket. A pharmacy software inclusion in the daily operation of the business is important for managing business operations like outpatient order entries, dispensing, inventory, stock control and keeping records of everyday sales.
With ERP (Enterprise Resource Planning) system, pharmacy software comes with the benefits of connecting to other systems at remote locations and thus helps in managing order entries and electronic medical records. Maintaining Point of Sales (PoS)/Billing features using barcoded and touch screen billing technology make the processes fast. This also eradicates any manual entry mistake.
The pharmacy enterprise resource planning software package eliminates the chance of medical or manual faults at any remote location because of a centralized processing screen.
By integrating a trending ERP system, pharmacists can deliver medications through a central screening system. ERP software in pharmacy is helping in dispensing interface systems for tracking and managing inventory levels. It is helping in providing access to all data through a single point.
The benefits of using enterprise resource planning software for the pharmacy industry involve an easier entry of various order types, multitasking billing, multi-level bill of materials process and thereby eliminates any duplication of drug dose. Furthermore, ERP software curbs out any extra cost with its rich features.
With the advent of retail pharmacy software systems, pharmacists are now able to monitor treatment. As a result, they are finding ways to improve treatment outcomes and patient safety standards. And whenever a patient visits after some period, pharmacists are able to access the medical history of that patient using enterprise resource planning software.
ERP pharmacy software system is used to print expiry dates of medicines. With customization available in ERP pharmacy software, labeling of medication is done through automation. In addition, the software provides adequate support in medication orders, clinical distribution and inventory management.
ERP pharmacy software helps healthcare centers in increasing pharmacy resources for improving the workflow of the department. It ensures the safety and an effective communication process with zero error in communication between clinicians, administrators and other departments that holds the potential of causing errors. The software system helps pharmacists in communication via email and messages.
There are features in the pharmacy ERP systems that help in filling prescriptions that are later sent to hospitals and clinics for fulfilling the needs of patient information.
One of the lucrative features offered by the ERP pharmaceutical system is the billing management system that benefits both the pharmacy centers and medical establishments. The ERP software system lowers the billing and collection cost and increases the efficiency that helps pharmacists in concentrating business.
How is ERP Software Benefitting Drugstore Business?
Interfacing with RX Application
ERP Software bridges the gap between PoS and RX application. It clarifies all the ERP systems in a channel to state when a filled prescription is over the date of pick up, the number of filled prescriptions that are there to be picked up, what is the total number of prescriptions that normally wait for pick up and how much time it takes an employee to fill the prescription.
Since ERP systems can monitor and order inventory through an automated system made for pharmacy users, it identifies understocked items for maintaining the numbers of medicines that are needed. Stock is maintained and distributed using automation. This also ensures that the availability of stocks during normal days. A pharmacist can match the inventory needs and demands at different locations and by the needs of particular customers. ERP systems allow tackling a wide range of product mixes.
Managing Promotional Offers
ERP systems are designed in a way to understand the importance of promotional offers to pharmacy shops and customers. It is responsible for running multiple overlapping promotions at one single time. From the management of flyer sending to collecting customer address using customer relationship management feature, ERP system ensures stock availability of items that are kept for promotions. The system manages promotional pricing from different vendors.
Keeping A Variety of Complex Products
For any pharmaceutical store, products are sold according to the needs of the customers. ERP systems maintain these products by recognizing and matching the items to the store planogram, understanding shelf space for specific product items and interchangeable products. Diving the product items according to the vendors and then selecting the best selling items for filling the space allotted by the vendor is also done by the pharmacy ERP system.
Understanding the Market Better
Market is understood through insights into customers' requirements. After that providing them with the best possible service is done for getting loyal customers. ERP system automatically collects customers' information for maintaining customer relationships. It aggregates sales data from the PoS for tracing the market trends and season based decisions and for adjusting the future of campaigns for a successful business. Another important thing that ERP system does is understand the customers' needs that depend on their locations.
Other Benefits
ERP has made Unit of Measurement billing possible for Carton, Box, Strip and Loose.
GST JSON file generation is possible due to ERP system.
Different invoice format is available in ERP system.
Users can define the report format in ERP system.
Multi-Unit of Measurement for Management Information System is available in ERP system.
Even missing voucher report can be done generated by ERP system.
Business Intelligence and Comparative analysis report can be generated by ERP system.
Payroll management and HR reports are also generated by ERP system.
SMS automation and digital signature printing are done using ERP system.
ERP system maintains software license security.
Highlights of ERP Report
ERP report includes –
Multi-firm company reports
ABC analysis reports
Stock aging report with stock valuation
Warehouse management
Cash management
Best Pharmacy Software available in 2020
Franchise Marketing Systems
TechSci Research LLC
Anchor Advisors, Ltd
Ultra Consultants
Versett
Nile HQ
Build. Change. Impact
Fresh Squeezed Ideas
Trianz
Argona Partners
Clarkston Consulting
Amarna Group
The Workforce Pro
The Jill Raff Group
Ledgeview Partners
Out of the Box Advisors
Casbeg
Confidant Global
Confidante Consulting
Simplified, consistent and error-free workflow is what pharmacy ERP systems are providing to the pharmaceutical industry and it has become an indispensable part of the everyday working of pharmacists.