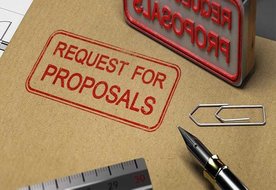 Today, the ERP solutions are gaining high demands and most of the companies are implementing ERP to smoothen their functions. But sometimes the companies fail in ERP implementation due to several reasons like no proper resources to implement ERP, inadequate knowledge about the uses of ERP and many more. A company can implement customized ERP solutions that can be tailored and designed according to the available resource and requirements. To get an ERP implemented the companies have to create a right Request for Proposal (RFP), the RFP is a document in which the companies provide required and the right information and a request for an ERP to the software developers. According to a company's RFP, the ERP vendors will design software and make the organizations understand the functioning of an ERP system.
Finding the right ERP solution requires time and developing concepts for ERP software is completely based on a company's requirements and RFP provided to an ERP vendor. To create an RFP for a company has to follow certain steps in developing it, following are some to the points described on how to create the right RFP for ERP implementation:
1. Highlight the Requirements:
The major reason to incorporate ERP software in a company is to centralize the data and course of work, also to smoothen the functioning of a company. The first step while filing an RFP is to list and highlight all the requirements of a company regarding ERP software. Such as the features and functioning of an ERP system, because based on the requirements of a company the ERP vendor will create sample ERP software to test its functions before producing a final version.
A company should include all its basic requirements on the list which can be useful for the employees to complete their daily job and save all the information in an ERP system. The requirements listed in the RFP should be made according to the organizational strategies and functions. Henceforth, the basic design of an ERP is made depending on the list of requirements provided by a company.
2. Build a Professional RFP:
Once the list of requirements is completed a company has to draft a Professional RFP which will be easy for a vendor to understand your requirements and revert to you with suggestions and ideas to build an ERP software. Sometimes the professionalism carried out by a company showcases its standard of quality working and services provided.
Also, a vendor sometimes may refuse as they may be unable to understand your requirements due to an informal way of describing your requirements in ERP software. Henceforth a professional RFP leaves behind a good impression about a company and the vendor will build standard ERP software for such companies.
3. Create an RFP Template:
After building a professional RFP a company needs to create a template for RFP that includes complete information of a company, businesses, products and services, and the necessity of implementing ERP software with certain requirements. Also the company's budget for building an ERP, all this information will help a vendor to create an ERP software tailored according to a company's objectives, requirements, and budget.