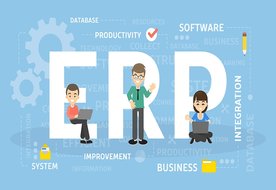 Standardizing and streamlining the business processes, ERP software assist in the overall growth and optimization of an organization. All ERP systems are designed and customized as per the basic requirements of an organization depending upon its area of operation or functionality such as the education sector, hospitality, healthcare, software applications or any other, and the key features of the ERP or the ERP tools are designed as such. While there are numerous benefits of ERP system implementation in the organization, the ERP system features should be highly developed and sophisticated which can help the organizations to get maximum yields. Apart from having the basic features of ERP system, there should also be some important features of ERP system which will help the company in reaping maximum benefits.
Some of the important features that are mandatory for every ERP system are mentioned below:
Automation: Automation is going to detect the future market and its presence in ERP systems is inevitable. Simplifying and optimizing the mind-numbing tasks that require extra effort as well as attention such as entry of orders, payroll, employee attendance, financing, payment and many more, automation is no longer an option but vital necessity of ERP systems. Also, implementation of automation in ERP to carry out above mentioned operations can reduce the risk of human error.
Customer Relationship Management (CRM): Customer Relationship Management is crucial and beneficial for a lot of reasons and handling a bunch load of data in a spreadsheet is just not an option. Apart from swift access to the customer's database, implementing CRM as a key feature in ERP also grants other supports as well such as billing and customer's information. Tracking every detail about the customer's preference and previous history of orders as well as transactions, the company can take a more customer-centric approach in its services to ensure optimum customer satisfaction.
Human Resource Management (HRM): One of the must-have features of an advanced and customized ERP system is features and tools for the management of human resources. Starting from tracking their daily attendance to leaves taken and payroll management, ERP monitors the employees to boost their productivity. Operating without any constraints of administrative guidance, employees like to be monitored by developed HRM enabled ERP system as it is more hassle-free and grants them more flexibility.
Accounting: Financial stability detects the presence of an organization in the market and hence plays an important role in detecting the stability of the company. Now, most of the companies like to handle their financial and accounting details managed and handled by proficient ERP systems. A financial and accounts management feature in the ERP will check the unnecessary cash flows and minimal returns by dealing promptly with payable accounts, sales analysis, management of assets, investments, and tax management as well. With its proficient accuracy and brilliant processing time, this feature can customize the ERP into a secure and strategic system to handle highly imperative functions.
Integration: Integrating the ERP systems to achieve more flexibility in process management can boost productivity and efficiency as well. An advanced ERP system can interact and communicate with the other applications present in the system of an organization and can generate more efficient results. It will save time and reduce the tedious job of going through many applications to get a single task done or obtaining a particular piece of information. It will also grant a more firm grasp over the functionality and operations of each and every application present in the system.