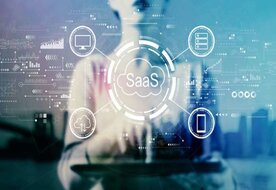 The Indian software-as-a-service (SaaS) ecosystem is expected to grow rapidly and increase its share of global SaaS to 4-5 percent (from about 1% at present), translating to a $50-70 billion revenue opportunity by the calendar year 2030, according to a Motilal Oswal report.
India has the third-largest SaaS ecosystem globally, after the US and China, the report said. Within the SaaS space, it said, Indian companies are now distinguishing themselves, with a long list of firms joining the unicorn club. While the majority of companies focus on horizontal business software, vertical solutions and innovative Infra SaaS plays are also scaling out of India.
The report also highlighted that "there is a potential for Indian SaaS companies to scale up and be larger than Indian IT behemoths as their aspirations are to win against global software majors like SAP".
It said investments in the space shot up to $4.5 billion in 2021, a 170% increase over 2020.
"SaaS has emerged as one of the biggest disruptors in the global technology industry over the last two decades. It continues to accelerate further as the world rapidly shifts to a cloud-based environment. The Covid-19 outbreak exacerbated the push to SaaS, which offers greater flexibility, functionality, and better remote productivity," the report said.
Motilal Oswal expects more SaaS companies to follow Freshworks' example and opt for a public listing.
"Unlike the Technology Services industry, SaaS companies are generating meaningful revenue from Indian companies (30% in CY20 as per Zinnov) and have a diverse business model targeting both enterprise and small and medium businesses," the report added.