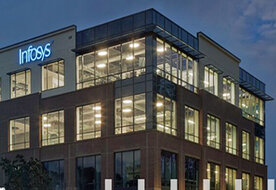 The country's second largest information technology company Infosys on Monday said that the leading aero structures manufacturer Spirit AeroSystems has collaborated with Infosys to integrate IT infrastructure of its recently acquired Bombardier's former aerostructures.
"Spirit AeroSystems has chosen Infosys as its lead technology integration partner to help drive and set up the end-to-end applications and infrastructure integration of a few of Bombardier's former aerostructures and aftermarket services assets, which have been recently acquired by Spirit," Infosys said in a statement.
"As the exclusive IT partner, Infosys will leverage its system integration expertise, ecosystem partners, and extensive knowledge of the aviation sector to develop a robust IT framework, which will be built on infrastructure solutions powered by Infosys Cobalt," the Bengaluru-based IT company said.
"The partnership will enable Spirit AeroSystems to empower stakeholders by transforming business applications and facilitating agile, resilient operations on the cloud," Infosys added.
"We are excited to kickstart a new chapter in our long-term strategic partnership with Spirit AeroSystems and support their vision for the aerospace industry. We look forward to maximizing the synergies of the acquisition by facilitating seamless integration of IT ecosystems. Through the partnership, we will support Spirit with infrastructure build-out and unlock more opportunities to accelerate innovation and drive success," Jasmeet Singh, executive vice president and global head of manufacturing, Infosys, said in a statement.
After the company made the announcement on the stock exchanges, Infosys shares ended 2.47 percent higher at ₹ 1,303, outperforming the Sensex which rose 1.3 percent.