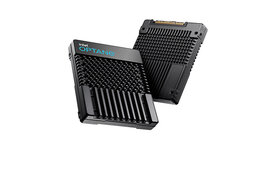 The Intel company unveiled six new memory and storage products to help customers address the demands of digital transformation at Intel's Memory and Storage 2020 event. Two new additions to the Intel Optane SSD Series have been announced by the company: the Intel Optane SSD P5800X, the world's fastest data center SSD, and the Intel Optane Memory H20 for consumers, which features gaming and content development performance and mainstream productivity. It also announced its intention to provide cloud and enterprise clients with its 3rd generation of Intel Optane persistent memory (code-named 'Crow Pass').
Intel Optane helps meet the needs of modern computing by bringing the memory closer to the CPU. The non-volatile memory module is Intel's vision of a memory and storage solution that offers persistence, capacity, affordability, low latency and memory-like speed.
With Intel Optane persistent memory, which is attached to the CPU via the double-data-rate bus, enabling direct load-and-store access at DRAM speeds, Intel has re-architected the memory and storage hierarchy allowing it to be used as a distinct capacity and performance tier for memory and storage.
In a statement issued by the company, Alper Ilkbahar, Intel vice president in the Data Platforms Group and general manager of the Intel Optane Group, said, "Today is a key moment for our memory and storage journey. With the release of these new Optane products, we continue our innovation, strengthen our memory and storage portfolio, and enable our customers to better navigate the complexity of digital transformation. Optane products and technologies are becoming a mainstream element of business computing. And as a part of Intel, these leadership products are advancing our long-term growth priorities, including AI, 5G networking and the intelligent, autonomous edge."
In the event, Intel also announced three new NAND SSDs featuring 144-layer cell memory: the Intel SSD 670p, SSD D7-P5510, and SSD D5-P5316.