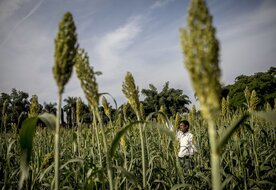 Amazon, Microsoft as well as Cisco Systems are among the technology titans lining up to harness the data from India's farmers in an ambitious government-led productivity drive which is aimed to transforming an outmoded agricultural industry.
With the project, PM Modi is eyeing to usher in long-due reforms to make over a farm sector that employs almost half of the nation's 1.3 billion people and contributes about a fifth of Asia's third-biggest economy. The government is counting on the project's success to boost rural incomes, cut imports, reduce some of the world's worst food wastages with better infrastructure, and eventually compete with exporters such as Brazil, the U.S. and the European Union.
Ankur Pahwa, partner, consultancy EY India says, "This is a high impact industry and private players are sensing the opportunity and want to be a large part of it. India has a very high amount of food wastage because of lack of technology and infrastructure. So there's a huge upside to the program."
The basic idea is simple: feed all the information such as crop pattern, soil health, insurance, credit, and weather patterns into a single database and then analyze it through AI and data analytics. Then the goal is to cultivate personalized services for a sector replete with challenges such as peaking yields, water stress, degrading soil and lack of infrastructure including temperature-controlled warehouses and refrigerated trucks.
Under the agreement, the big tech companies help the government in developing proof of concepts to offer tech solutions for farm-to-fork services, which farmers will be able to access at their doorstep. If beneficial, firms would be able to sell the final product to the government and also directly to growers and the solutions would be scaled up at the national level.
"With this data they will know where the produce wasn't good, and will buy cheap from farmers there and sell it at exorbitant prices elsewhere," said Sukhwinder Singh Sabhra, a farmer from the northern state of Punjab, who has been protesting since November against the new farm laws. "More than the farmers it is the consumers who will suffer."
Technology adoption is still at a nascent stage in India, said Apeksha Kaushik, principal analyst at Gartner. "Limited availability of technology infrastructure and recurring natural phenomena like floods, droughts have also worked against the deployment of digital solutions," she said.
"Once you have the data, you can correlate with on-ground reality and improve your projections, take informed decisions and see which regions need policy intervention," said P.K. Joshi, former director for South Asia at Washington-based International Food Policy Research Institute.
A similar data-driven system implemented in the southern state of Karnataka last year helped increase efficiency in delivery of government benefits, said Rajeev Chawla, the state's additional chief secretary. Some bank loans have even been made to farmers using the centralized data, and all government programs, verification for insurance and loans and minimum support price are being routed through the mechanism, plugging leakages and eliminating frauds, he said.