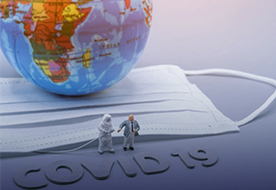 It is true that businesses across the world will be reshaped because of the COVID-19 pandemic. Already the UN Trade Agency has forecasted a slow economic growth worldwide that can go down under 2 percent this year and result in a loss of $1 trillion to the world economy. The travel and transport sector are facing drastic problems with top airline companies sheltering all the jets and suspending many flights.
Post COVID-19 pandemic, health and safety of employees will be the topmost priority of the companies. Several podcast giants have already been awestruck by the role played by technology in providing accurate healthcare to the patients during the COVID-19 crisis.
Not overlooking to the outburst and negative effects caused by Coronavirus, businesses across different verticals have started giving importance to digital business opportunities coming up these days. It might sound that it is a sudden decision taken by the business heads, but in the long run, these initiatives can have huge profits.
Therefore, after Coronavirus is defeated, some technological gestures that will reshape the future include –
Healthcare System Giving Importance to Data – With the rising importance of the healthcare system and the consumer quadrant becoming more health-conscious, healthcare establishments that followed the system of general health testing is likely to mandate medical tests based on the provided data for medical conditions. This will create opportunities for data and Artificial Intelligence specialists as an abundance of healthcare data will be there. Data and Artificial Intelligence specialists would be providing the needful for minimizing the rate of tension in the consumer end. Data on availability of beds, rate of spread of a particular disease, medicine requirement, etc. will be under the control of data specialists.
Digital Business Models – Companies will be starting to find digital business model solutions for making their business scalable and resilient. Some big names have started selling their point-of-sales data to different brands for maintaining a stock of products in their warehouses which can be supplied whenever needed by the market. Apart from the retail section, the digital-enabled sharing economy which is responsible for the rapid growth of businesses despite severe pressure will have a market presence.
Ever Important E-Commerce – Consumers have stopped moving to stores to buy daily products needed for survival. Products like canned food, food, groceries, medicine and even water are being brought by consumers via online portals. Hence, the e-commerce technologies will be facing a huge boost and might become an everyday part of the consumers.
Remote Culture – Almost everyone is working from home and digital platforms that connect teams have seen a tremendous rise in the share only because of this situation. Since going out is prohibited in every part of the world, consumers have started giving importance to technologies like augmented reality and virtual reality. Experiencing a musical concert or having a visit to museums through AR/VR has gained fame. Because consumers are able to live stream videos, listen to audiobooks or engage in conversations with friends sitting at home, AR/VR technology will likely get some innovation in the coming days.
Distance from Things – COVID-19 has made people give utmost importance to hygiene at home and outside. There could be more touch-free technologies due to this in office buildings. Sensor-based technology has already won the place in many areas, it is just moments waiting when new sensor-based technologies will be rising to minimize the spread of germs.