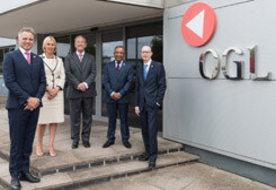 Kidderminster's OGL Computer has helped Staffordshire-based supplier of electrical and electronics components. Switchtec to launch a new e-commerce website and upgrade its software applications to support a growing customer and product base.
OGL Computer, based across sites in Kidderminster and Stourport-on-Severn, is the technology partner to over 1,200 UK businesses, including small, growing businesses as well as multi-site enterprise businesses, and is the author and developer of prof.ITplus, a fully integrated ERP solution for stockists, distributors, and wholesalers across the UK.

Switchtec was founded in 1982 and run from a garage but is now based out of a warehouse in Stone, with 20 employees and a multi-million-pound turnover. Until recently, like many distributors and wholesalers, it had limited e-commerce presence and used bespoke outdated software, manual processes, and a separate CRM system.

Switchtec, recognizing the need for efficiency and increased productivity, launched a new e-commerce website using eShop and overhauled its business processes by implementing an integrated CRM, accounts and purchasing software, called prof.ITplus.

eShop e-commerce platform and prof.ITplus, an ERP (enterprise resource planning) software are developed by Kidderminster's OGL Computer and have made Switchtec more efficient in many areas of the business including purchasing. Switchtec Managing Director, Jeremy Lester explained: "We used to print and manually go through all purchase orders line by line. It was a full-time job because it was so labor intensive.

"But now, with prof.ITplus, we have streamlined the process, automated a lot and the role is now part-time." Implementing an e-commerce website was a major step in expansion for Switchtec, and after seeing strong sales from the company's eBay account, Jeremy said, "we haven't looked back. We're not setting the world on fire but it's a part of the business we couldn't be without. We have a minimum order value over the phone of £25, so we often have smaller orders going through the site because there isn't that restriction. This is because the order is automatically processed, and a picking list is simply delivered to the warehouse team which cuts out the administration work."

The e-commerce website has also enabled the company to improve customer service: "If we have a customer on the phone that is unsure of the exact product they're trying to order, we direct them to a product page on the website, which has the relevant datasheet attached, and asks 'Is this what you're looking for?' This gives the customer peace of mind that they've ordered the correct item, which in turn reduces returns and extra administration", continued Jeremy.
Ultimately, the stock is at the heart of Switchtec's success. To expand its portfolio and grow in the UK, the company now has ERP software that connects all business processes and allows them to run efficiently. Jeremy explained: "For us as a distributor, the stock is everything and the stock management module is great. The way you can extract information to run stock reports is probably my favorite feature. The stock module handles perpetual stock checks, reports, dispatching and more, so the system is perfect for distributors as a whole."

Nick Davies, Head of Software Development at OGL Computer, commented: "Increasingly more purchases are made online, so an e-commerce website linked directly to the warehouse has given Switchtec a new sales channel and increased sales. Additionally, boosting productivity by decreasing administration burden, improving communication and linking disparate processes and applications is the main key to remaining competitive in any wholesale business, and Switchtec has benefitted tremendously from their business overhaul.

"The savings made using a single software to manage operations, from ordering, stock control to dispatch, mean that Switchtec can expand its operations."