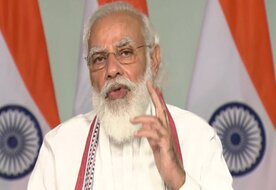 Today, the 23rd edition of Bengaluru Tech Summit has been virtually inaugurated by PM Modi through video conferencing from New Delhi. He virtually addressed the gathering which encompassed some high-profile international personalities, including Australian Prime Minister Scott Morrison and Swiss Confederation Vice President Guy Parmelin. On behalf of India, Union IT and Communications Minister Ravi Shankar Prasad, Karnataka Chief Minister B.S. Yediyurappa, State Deputy Chief Minister C.N. Ashwath Narayan, State Industries Minister Jagadish Shettar and other dignitaries along with other invitees participated in the inaugural event of this 3-day conference.
Highlighting the importance of technology and how it plays a vital role in our lives, PM Modi quoted the example of Digital India, which is no longer being seen as any regular government initiative, but rather a way of life, particularly for the poor, marginalized and government personnel. PM Modi also mentioned the 'work from anywhere' concept which has become the new norm now and is here to stay. "Owing to the digital technology, India has now been able to ascend faster in the service delivery to people across the country. Even during the Covid-19 pandemic, the government has been able to help citizens through Ayushman Bharat for medical assistance efficiently," added PM Modi. He also said, "Our resilient technology industry was able to overcome difficulties caused by the pandemic and enabled employees to work from home and from anywhere. This has become a new norm and is going to stay. We will see a high amount of tech adoption in education, agriculture and other sectors."
Mentioning about surviving in the middle of this information era, PM Modi quoted that "the first mover doesn't matter but the best mover does." Praising the role of youth in developing robust cybersecurity solutions, he said, "the potential of youth and opportunities for them are endless. Noting that India had an advantage in innovation, the Prime Minister said he was confident that the Indian IT sector would keep the country proud with the talent and zeal of its techies to innovate." In his 20-minutes speech, PM Modi stated, "Through technology, we have enhanced human dignity. Crores of farmers receive monetary support in a click. At the peak of the lockdown, it was the technology that ensured that our poor received proper and quick assistance. The scale of this relief has few parallels".