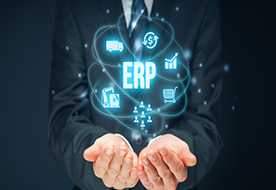 Technological advancement has led to the adaptation of digital platforms. Some might say Enterprise Resource Planning and Digital Transformation are poles apart. But when analyzed perfectly, it is seen that ERP and Digital Transformation are correlated. Digital Transformation plays a crucial part in transforming ERP. Simultaneously, ERP plays an important part in the Digital Transformation of businesses. Eventually, businesses across different verticals have taken up the option of Digital Transformation with the help of Enterprise Resource Planning.
Digital transformation is a new technology-focused on enhancing customer experience on digital platforms. It helps in the growth of the industries when applied properly.
Implementation of ERP in Digital Transformation
There are ERP tools that are applicable to social media platforms. These tools have extensive reach over the results. Social media platforms being the integral part of the Digital Transformation aspect, the ERP primary tools help in the expansion of business on digital media. ERP is able to help in the creation of social accounts of the customers, through which Digital Transformation takes place. The digitally transformed customers are then able to avail the products and services from digital media. It is the business opportunity for business giants to expand electronic social presence by leveraging ERP.
Intelligent ERP is regarded as the tool responsible for the fulfillment of the growing ERP requirements. It abridges business and users' gap and intelligent ERP also uses Digital Transformation tools for performing analytics on the user data and gives better result prospects.
An efficient ERP system is a Cloud-based ERP. The benefits of the Cloud-based ERP are well known to them who have already digitally transformed businesses. Cloud-based ERP gives access to any worker of a company and therefore it attains the state of total utilization of resources. Cloud ERP solutions give business acceleration for Digital Transformation as a helping hand to the main ERP structure. Cloud-based ERP has extension over the main digital platform which is social media. In addition, there is less risk in the implementation of Cloud-based ERP, which works independently. Changes or destruction of a Cloud-based ERP system won't affect the mainframe ERP structure.
Adaption of Digital Transformation has given businesses the opportunity to create multi-faceted tools as for a long time most businesses were happy with what they had. By applying the Digital Transformation system, businesses have seen accelerated growth. Digital Transformation has granted businesses to use multiple technologies in a single tool which is ERP based. Perfectly performing ERP tools have further taken the rate of digital transformation higher.
Salesforce and Customer Relationship Management tool started using the ERP system in its implementation and deploying stages. This has made ERP give faster Digital Transformation to the business processes and businesses, in turn, have gained access to more technologies in the same package with ERP.
While ERP has always been a stable tool, the extension to social platforms, cloud and analytics has enabled in a broader function of the ERP tools. The scalability of the ERP tools has given the users the option to add new features keeping the old ones intact.
Digital Transformation is not bounded to any particular solution, rather it has a vast application in every business. So, implementation of ERP based solution gives accelerated growth to businesses.