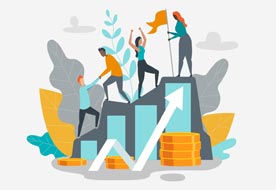 SAP SE (NYSE: SAP) recently announced free global access to software demonstration environments to help partners navigate today's business landscape and create best-run businesses for their customers.
The announcement was made at SAP Global Partner Summit, being held online June 3. As the world continues to adjust to the COVID-19 pandemic, SAP is helping partners maintain business continuity by turbocharging its next-generation partnering movement and identifying powerful ways to help partners accelerate their customers' journey to recovery.
"To win in the experience economy, organizations have to continuously improve the core experiences of business – customer, product, employee and brand," said Karl Fahrbach, chief partner officer, SAP. "With these investments, we are making good on our promise to lower the barriers for more partners to deliver the intelligent enterprise that will continue to improve and change our world."
Higher-Quality Customer Projects Delivered by Partners
The partner delivery quality framework is designed to ensure consistent delivery of high-quality projects and improved partner and customer experiences. It provides a set of standard processes, tools and reporting aids to help partners train and enable their delivery resources and monitor quality across projects. It also awards grants for consultant education and incentives for partner investments, emphasizing customer success. Additionally, SAP will increase its own investment in partner learning and enablement and provide services to support partner implementation projects and customer adoption.
Free Access
SAP provides partners with free access to an integrated, preconfigured software demonstration environment to expedite sales conversations. It provides free access to some of the most popular intelligent enterprise demonstration scenarios, covering a wide range of integrated solutions and embedded intelligence technologies. Additional scenarios will be added over time to help partners further enable the intelligent enterprise. Partners can qualify here for SAP Partner Demo Environment, shared option. After qualifying, partners gain free access to demo enablement and a complimentary demo concierge service for guidance and coaching. This can help ensure they have the skills and resources to deliver a frictionless and consistent end-to-end demo experience for their customers.
Furthermore, SAP is announcing 12 months of free access for partners to test and demo systems on SAP S/4HANA Cloud, the leading intelligent enterprise software. This offer will also be available on the SAP Business ByDesign solution, the complete, integrated, adaptable cloud solution for midmarket companies and subsidiaries of large enterprises. The new offers will be available from July 1, 2020. Partners can qualify on SAPPartnerEdge.com.