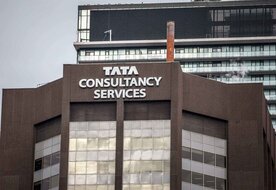 Tata Consultancy Services will leverage its expertise in working with several global airlines including Singapore Airlines and British Airways in order to bid for digitisation projects of national carrier Air India from its parent Tata Sons, a senior executive said.
India's largest IT services company will also be an underdog bidding for a part of the $ 50 billion federal IT project in the US, TCS NSE 1.10 % chief operating officer N Ganapathy Subramaniam told.
On a potential Air India project, he said, "We have to win it on merit. We have to be proactive about it in terms of going and saying what we could do… The onus is on us to pitch for it and then see whether we can win some of those." The government had declared Tata Group the winning bidder for the national carrier.
Subramaniam said nothing would be given to TCS on a platter just because it is a Tata Group jewel and expected other companies to bid for the same project as well.
"We work with Singapore Airlines, Malaysian Airlines, Qantas, British Airways...so we have a fairly good experience and expertise in making this work," he said.
As reported last week, TCS is bidding for part of a $50-billion US federal government contract. "When we bid for some of these things (large federal projects in the US), we are the underdog, so it is actually a nice position to be in," Subramaniam said. He also added the $50 billion amount is divided into hardware, software and Cloud components over a number of years, and so the actual project is not unmanageable.
"I think we have to break it, and craft a value proposition which is attractive… We have to see how we can structure this and how we can work within the government procurement processes like anywhere else," he said. "The government procurement processes are very different. So, we are also learning about it. So, it's a good deal to participate in it. Whether we win or not, we will learn a lot from it, that's the way I see it."