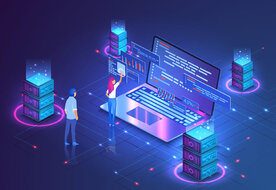 Upon building the metaverse concept, Meta Platforms Inc, Microsoft Corporation as well as other tech giants are forming a group in order to develop industry standards to aid their nascent digital worlds compatible with each other.

From companies working in space, chipmakers to gaming are included in the Metaverse Standards Forums, including well established standards setting bodies such as World Wide Web Consortium (W3G).

However, Apple is not in the list and analysts believe the tech giant could become a dominant player in the metaverse once it introduces its mixed reality headset this year or early next year.

Although Apple has not been actively reporting about its headset, but it has been working on the product with a large team for years.

Apple believes that the headset would position it in direct competition with Meta which has declared its future growth in the metaverse by investing heavily in hardware to make its interconnected virtual worlds' vision a reality.
Additionally, Apple is creating web standards such as HTML5. It has also worked with Pixar on the USDZ file format and with Adobe to ensure it supported the format for a three dimensional content for the metaverse.

It has even changed its name from Facebook and is also working on a similar product named Cambria, a mixed reality headset reported to launch this year.

Other companies such as Roblox and Niantic and crypto-based metaverse platforms such as The Sandbox or Decentraland are also not in the list.

Neil Trevett, an executive at Nvidia who is chairing the Metaverse Standards Forum says that any company is welcomed to join the group, including those from the crypto world.

The forum is aimed at facilitating communication between a various organizations to bring about 'real-world interoperability' in the metaverse.