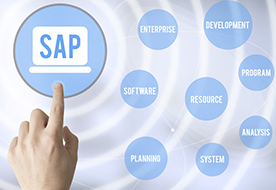 SAP is the most prioritized ERP software implemented by more than 88,000 SMEs across the countries. Selecting the right service provider that can help a company in managing its functions effectively and offer quality products and services to their clients. And when it comes to SMEs they have to provide standard products and services to their clients and customers in order to sustain in the market. Hence, to accomplish their objectives and to handle the organizational functions most of the SMEs choose SAP as their ERP software.
SAP has been designed in a way that benefits all kinds of industries and businesses, especially the SMEs. The SAP softwares help the companies to control and keep an eye on their production rate, resources, demand for their products and services, supply, sales, revenue and profit margin. SMEs implement those services that will cost them less but can get a good rate of profit and sustainable growth. Following are some of the top reasons why most of the SMEs pick SAP as their ERP software:
As mentioned above SAP is being implemented by 88,000 SMEs in 120 countries and in 24 different kinds of industries. SAP is considered as a leader among the ERP solution providers and around 23 percent of the businesses around the world uses SAP as their ERP solution and 18 percent of the SMEs across the countries. Therefore, SAP is considered as a leading brand for the SMEs among the ERP solutions.
The SAP solutions are developed according to the needs of the companies, which also includes highly updated technologies. The SAP service providers are deeply skillful and have been utilizing that experience to improve their products and services according to their practice gained from more than 35000 executions. Thus, they have been utilizing that experience to sharpen their product after some time to insert best practice gained from more than 40,000 executions. Thus they have profound capacities of the companies and are focused by advancement and improvement over their clients.
SAP provides the latest ERP innovations happening – SAP HANA. A technology that helps the companies to gather safely a large number of real-time data in a span of time. A survey conducted by an organization says that 70 retailers, 460 billion records and a large data can be saved by the SAP HANA in just 0.04 seconds. This software can gather any amount of data from any place in the world accordingly.
SAP solutions are provided to the companies with less than 9.3 percent of cost compared to other ERP software offered by the prominent software service providers also the SMEs who are SAP clients gain 23 percent of lower execution charges compared to other leading ERP solutions. Henceforth, SMEs are able to implement a highly approved and technologically updated SAP solution with minimum affordable cost.
SAP solutions help the companies in growing by making them easy to handle their transactions within a short period of time and that saves a lot of time for a manager to focus on other elements of a company that have to be improved. In the same way there are many instances where the software helps the managers to find an easy solution and minimize the errors occurring. Therefore, SMEs choose SAP as their ERP software because they look for a solution that decreases their difficulties and help them in growing their business and find a brand value in the market.