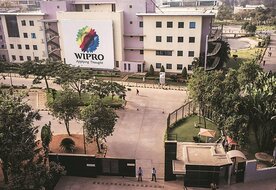 Wipro Limited which is a leading global Information technology, consulting, and business process Services Company, today unveiled Click-Shift-Drive, a contactless car-buying solution that addresses the complete automobile-buying journey. Scalable, flexible and rapidly deployed, the end-to-end solution enables automakers and dealers to offer everything from research and loan approval to purchase and delivery at a time when 50 percent of car-buying journeys begin online.

Wipro's Click-Shift-Drive empowers automakers and dealers to quickly adapt to the digital-first demands of the Millennial and Gen Z consumers taking over the car-buying market. With Click-Shift-Drive, automakers and dealers can launch e-commerce solutions and provide a virtual direct-buying experience in just eight weeks. Click-Shift-Drive uniquely incorporates a range of Salesforce technologies so companies can provide an enhanced user experience throughout the customer journey. In addition, Wipro partnered with ThreeKit 3D & Augmented Reality to provide an augmented reality component so buyers can visualize a virtual rendering of the automobile in their own driveway.

"Research shows 59% of automotive customers are interested in buying cars entirely online. Click-Shift-Drive, part of Wipro's $1 billion investment in cloud over 3 years, empowers manufacturers and dealers to meet that demand by launching online marketplaces faster and with more features than ever before. As e-commerce gains prominence, Click-Shift-Drive is ideally suited to help industry leaders deliver an enhanced customer and purchasing experience," said Hari Raja, Global Salesforce Practice Head, Wipro Limited.

"The automotive industry has embraced pandemic-driven digital transformation, accelerating it to ensure customers get the best they want. As the Salesforce platform has evolved to provide a 360-degree customer view, augmenting it with mixed reality solutions to drive a next-generation experience that addresses the entire spectrum from buying intent to final car delivery will be critical. With its expanded offering, Wipro is aiming to help automotive enterprises in this next-gen Salesforce-led customer experience journey," said Yugal Joshi, Partner and Head of Enterprise Applications Research, Everest Group.

"Building relationships and knowing your customer is key to the success of any commerce business," said Lidiane Jones, Executive Vice President & General Manager, Salesforce Commerce Cloud. "For many customers, this requires a suite of integrations made possible by our partners. With Wipro's Click-Shift-Drive and Commerce Cloud, companies will be able to take customers beyond traditional product catalogues and lead management in the car buying journey to a highly customizable commerce engine."