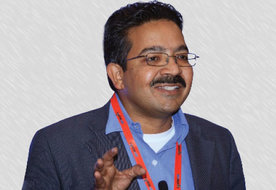 The growth of our businesses in the future depends on our ability to leverage technologies and apply them to address the changing market needs. The disruptive technologies have the power to completely rewrite the way we conduct our businesses. These technologies are merciless towards those businesses that do not respond proactively – they can totally wipe them out overnight. Planning for the future is all about understanding and correctly assessing the impact of technologies on our Business. Let us begin by understanding the most promising technologies and how they can impact us.
Disruptive Technologies
The technologies that have the potential to disrupt businesses in India were analyzed in a recent report from McKinsey Global Institute. These technologies are spread over three important areas – Digitization, Smart & Connected systems and Energy.

Technologies such as the Mobile Internet, Cloud technology, automation of knowledge work, digital payments and verifiable digital identity are rapidly shifting our business into a digital world. The demand for smart systems such as intelligent transportation and distribution that uses digital service in conjunction with IOT, Advanced Geographic Information systems (GIS) that combine location information with other advanced oil and data and a connected world enabled by IOT is steadily rising. The omnipresent internet and the flow of large volume of data necessitate enhanced analytic capability (Big data), computation and storage.

The associated demand for energy will force us to rethink our energy strategy; the most innovative companies are already investing in this direction - Google has been investing on Solar and other renewable energy options in a big way, Apple has been experimenting with a variety of advanced storage technologies. Recent breakthroughs in advanced oil and gas exploration is making it economical to extract unconventional oil and gas (usually from Shale) and this can vastly improve India's energy security. We can leverage a creative combination of the disruptive technologies outlined here - it will enable us to redefine our business landscape and move up the value chain.

Disruptive Technologies can be Business Opportunities
To understand how disruptive technologies can be converted into growth opportunities for our Business, let us look at the disruptions happening in the automotive industry as an example. Bill Ford (Great Grandson of Henry Ford) has made it clear in a recent TED talk that the future growth of his company is not in selling more cars but in connecting the cars – making sure that the cars talk to each other and also to the infrastructure (parking lots, traffic signals, toll booths etc). He cites global grid lock and sustainability as the key drivers that will shape the future automotive industry.

A few business leaders have started looking beyond the horizons of today's business and visualizing what their business is going to be like in the future. Those of us who live in cities like Mumbai and Bangalore can easily relate to the problem of traffic jams and productivity losses that it leads to –hence an important question for an emerging economy like India is, "How can our automotive industry develop an innovative and sustainable solution that addresses global grid lock?"
The promise of the electric car, in recent times, is steadily enhanced by the possibilities offered by smart, connected and autonomous (driver-less) vehicles. This has the potential to disrupt the traditional automotive industry.

Elon Musk is translating this disruption into a significant business opportunity. Musk is scaling up his breakthrough in the design and manufacturing of batteries and widening the market – he is expected to deliver thirty-five thousand near-luxury cars this year.

Automotive giants like Daimler and Toyota have bought Tesla power train systems and invested in the company. In fact, Musk's technology strategy to drive wide acceptance of the electric car is very unconventional and daringly innovative – in June 2014, Tesla announced that it would make its patents widely available to automakers in the interest of speeding up electric car development around the world. What if the electric car is on our roads sooner than predicted – are we ready?

Innovation and Intrapreneurship
We need to be innovative in leveraging the disruptive technologies to grow our business in the future. Innovative ideas alone are not enough, we need to effectively incubate these ideas in-house and successfully spin-off new businesses – we should be ready to kill our current business before anybody else does. The future of our business is in redefining it by proactively assessing and leveraging the disruptive technologies.