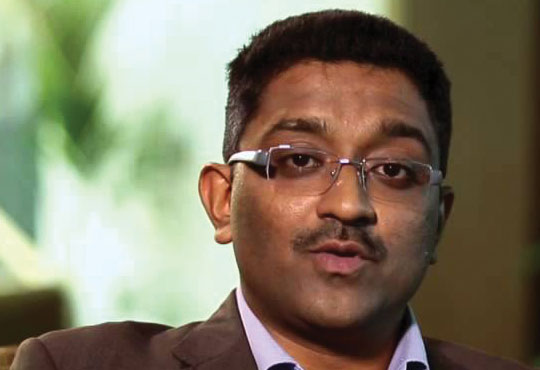 CR Team: From your experience, do brief us on why is it necessary to transform the present IT infrastructure to suite the 21st Century?
Kalyan: The world is going through disruption. The organizations cannot take their current positions in the market for granted. One third of the firms in the Fortune 500 in 1970 no longer existed in 1983. These companies were killed by merger, acquisition, bankruptcy or break-up. A paradigm shift is happening from the 20th century view that customers revolve around the stationary "center of the universe"—the value chain of the organization—to the view that the organization is one of many organizations revolving around the customer to meet shifting needs and desires.
To survive, the organizations need to remodel themselves as a 21st century enterprise – a "21CE", which is - Experience-centric, Outcome-based, Agile and Lean, Service-oriented and Ecosystem–driven.
CR Team: While transforming and future proofing one's business and an entrepreneur will have to face ample amount of challenges and pain points. What is your take on these challenges and how can one overcome these challenges?
Kalyan: Today's key IT business challenge is to do more for less, to find ways to reallocate resources and budget from routine operating expenses to investments that more directly support strategic company objectives. For example, IT departments spend 80 percent of their budgets just to keep their networks up and running. You might be facing an IT environment with one workload per server, labor-intensive provisioning and disparate management tools that are spread over multiple sites. Mid-sized companies are looking for ways to improve resource utilization and performance, lower infrastructure complexity and free IT resources to focus on business priorities. In fact, improving utilization and management of IT resources is a top priority for 51 percent of executives.
In contrast to the increasing need for long-term IT planning, many companies typically make IT purchase decisions based on short-term business requirements and timetables. Although this strategy may meet the current and near-term needs of the business, over time it results in disparate systems that are running on many individual servers and that require multiple support teams. Problem identification is complex, data accessibility is generally limited and integrating new applications into existing systems seems impossible. The end result is an IT infrastructure that has met yesterday's business needs but today is inflexible with high operational and maintenance costs.
As your business grows, the number and complexity of your data processing systems and the workload on your server room increases, placing greater demands on your IT infrastructure. Increased demand means increased power consumption, and with rising energy costs, mid-sized businesses are faced with the imperative to do more with their IT infrastructure for less. Optimizing your IT environment can bridge the differences between the disparate inflexible infrastructures of the past and the current need for IT to facilitate business growth.
CR Team: Today's millennial and digital natives are redefining organizational IT requirements. What is your take on this statement?
Kalyan: The 21st century enterprise has to align themselves to millennials or digital natives; the alignment is no longer an option. Millennials and digital natives are keen to get their jobs done efficiently in order to maintain a healthy work/life balance. Organizations will need to enable complete digital workplace – with virtualized applications, auto-synchronized collaboration and file-sharing systems, intuitive search tools, personal dashboards with analytics to monitor their performance and progress. Rather than resist, those organizations that embrace the new reality and learn to harness these technophiles and their inherent ability to collaborate, connect and create will thrive in this era of disruption in the business landscape.
CR Team: How can one harness Cloud, Mobility, IT Process Automation, Cognitive Computing, Service Integration and Management to effectively shape up a 21 Century Enterprise?
Kalyan: The vision of the 21st Century Enterprise is driven by real innovation and change that HCL has been delivering to hundreds of our customers. Many of the 21CE services that we offer today are redefinitions of traditional IT services – which some are brand new ones; created for one single purpose – creating unified experiences
CR Team: How receptive do you think is India to the changing market and technology trends?
Kalyan: According to recent Gartner study India is catching up with global tech trends. According to the same report, the IoT is top of mind for many Indian enterprises. Having said that the successful implementation will depend upon the how Indian organizations understand the business use case for which they want to use IoT for. Success will also depend on aligning the IT and operation technology (OT) resources, processes and people carefully. So, experimenting with pilot projects in order to understand the implications on people, process, technology and the business is an essential first step for Indian organizations.