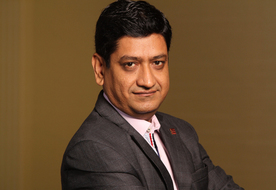 Digital initiatives are must of all the business post emergence of Internet and social media. Being in the middle of Digital business, and carrying well-established brands in Digital space, there was a need to consolidate all entities of Entertainment group that are in Digital space. The SMAC stack which is very popular term in market now, that time it was just a thought IT industry thinking of to establish.

We thought why not move our technology to new levels by adapting SMAC? Since we know and anticipated in advance, SMAC is the future of IT industry, we decided to adapt and include Cloud strategy in big way. That was also need of the hour for us, because all entities were carrying separate IT setup and it was necessary to consolidate Technology platform, and at the same time there is challenge of managing cost as well.
Taking challenge on face, we successfully collaborated, designed and implemented a private cloud through emerging data center provider NxtGen Cloud &Datacenter services in Bangalore along with Intel and moved all our existing workloads there. R Entertainment is one of the early movers in SMAC technology and much ahead in market & IT industry to adapt these, we have created the trend, which has been adapted by various entities later in Reliance ADA group as well other players in the industry.

Advantages & advancements on SMAC adaptation
1. Moved to virtualized private cloud environment, reduced server foot print to 80% of existing physical workloads by reducing 450 physical servers to 18 physical servers and 45 racks to 4.
2. This resulted in reduction of costs to 80% of exiting DC operations costs. From 9 Cr to 2.7Cr Annually.
3. Increased the user experience, time to market on launch of new products
4. Eased the administration in IT point of view
5. Brought much needed flexibility and Agility to business.
6. By going this way, we have contributed to society by reduction in power usage and heat generation significantly.

Post creating a private cloud, there was a need to go to next step of creating a Hybrid cloud. Because of increasing Global presence of Reliance Games and dynamism involved in volume of data, we moved dynamic workloads where data is non-consistence depends on behavior and Daily users of game consumers across world, to public cloud and formed VPC, connected both Private and Public cloud to form perfect Hybrid cloud.
As next step there was need to form an analytical setup for decision making as ready platform are not providing complete Big Data life cycles for our form of business (Gaming Industry), hence created Analytical platform from scratch within private cloud by using Map-reduce and Hadoop.

ERP-SAP for Reliance Entertainment Group
As a group CIO, I have to initiate and manage enterprise shared IT services across group apart from innovations and projects. Some of shared services are Enterprise mail, Corporate IT compliance, Enterprise Security and Enterprise ERP. In this regard we have implemented group wise SAP solution with all relevant modules like FICO, SD, MM, ABAP, BASIS & HCM to have solid ERP base for the Group. We have created centralized support team to manage all IT operations & strong NOC team for IT innovations, IT initiatives and projects execution. Currently our SAP is running on traditionally hosted DC environment.
Next steps:
1. Working on moving analytical platform to near real time analytics for faster data driven decision making. We are working with Intel on this to design and develop this on HADOOP.
2. Moving SAP on cloud, forming a private cloud with adequate security. Idea which most of big corporates still thinking in terms of feasibility. We are in advance stage of designing and going to initiate this project soon. This will be a huge project and if we succeed, we again set benchmarks for technology innovations.