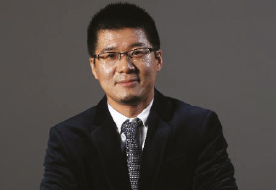 Data is becoming the lifeblood for the truly digital companies and data-driven decision making is most powerful serving as competitive edge. The term 'DT' (data technology) has often been seen to replace 'IT' (Information technology). Not mentioning the e-Commerce companies like Amazon, Alibaba, etc., even some traditional retailers start to think themselves as Data Company. They believe that the most valuable assets they have is about consumer and their purchasing and behavior data, hence they can extend their business or services into many new territories.

For the brick and motor manufactures or consumer brand companies, how are we going to play the new game in the big data era? If you look at today most of companies have the back-end information systems platform, which supports the back office and operations such as enterprise resource planning and core systems. Many senior executives have clearly understood and aligned that on top of the base ERP system, we have to embark the journey to embrace customer experience platform for engaging customer and consumers and as well as data and analytics platform, which contain information management and analytical capabilities. Data management programs and analytical applications fuel data-driven decision making and algorithms automate discovery and actions. This is already top of pyramid in many IT organizations' where to play/how to wins.

However, reality in many organizations today is that data sources are fragmented and very often that we have more data than what we thought as well, i.e. the data are under-utilized. The challenge remains how to capture your ERP data, consumer data, sales data (including POS) and as well as external data and connect all those data to avoid silos. Many organizations also don't have the right platform and organization capability to govern and enhance the data.

To address those challenges, how can IT play a unique leadership role in the whole data topic. We could look into from 4 aspects:
• Right data strategy
• Right technical platform
• Right security and governance
• Right organization

Right data strategy is about your company data blueprint. It should clear articulate the data model definition, data acquisition, data partnership (e.g. 2nd party data or 3rd party data), processing and usage guidelines and more importantly the ownership of the data in the organization. Most important aspect of Right technical platform is to have an agile platform which allow the organization to break the data-silos and integrate into one big data lake (here big data platform and analytical tools come to picture). Security is another area where organization is paying more and more attention. We have seen many scandals of data leakage, which has made this 'no miss-item' in CIO list. With all the data and right tools, the right analytical resources are the key to unleash the data treasure. People who are able to connect the data with the business story are in high scarcity in today job market and can make big difference for data driven decision.

In Summary, CIO has to partner with senior business executives (CEO/CFO/CMO/CXOs) in the company to start a clear roadmap and always bring them along in the journey and as well as get the right talents on the bus. Only you fully harness your data in an integrated way, then you become a true digital and data driven company.