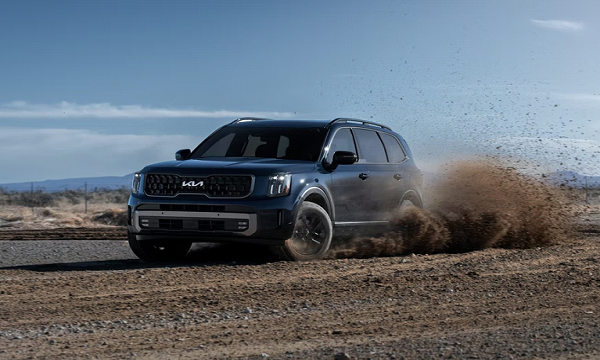 KIA is a well-known name in the automobile sector that has made strides over the past decades. This South Korean brand is known for manufacturing some of the best cars the world has seen. When buying stylish yet budget-friendly vehicles, people often think of KIA cars. But despite being so popular and influential, do you think you know all about this automobile company? Well, we guess not. If you're a KIA fan, you should check out the list of amazing facts about this brand shared below.
Also Read - Wipro Unveiled Click-Shift-Drive, A Contactless Car-buying Solution
1. It Started as a Bicycle Company
KIA started its operations in December 1944 under the name 'Kyungsung Precision Industry' and was later renamed KIA industries in 1952. Surprisingly, the first vehicle KIA manufactured was not a car but a bicycle. The company launched a bicycle named 'Samchully' that was quite a hit among people.
All the KIA bicycles were handmade and had impressive designs. KIA High Riser 103 and KIA Super Cycle 3000 were some of the brand's best bicycles. Tiny, slim, stylish, and durable are the best words to describe the bicycles manufactured by KIA. After successfully running a bicycle business, KIA started focusing on manufacturing four-wheelers in 1962.
2. The Company Merged with Hyundai due to Bankruptcy
South Korea faced a deadly financial collapse in 1997, and the heat started affecting KIA. The brand was among 30 other big conglomerates that failed under the pressure of economic collapse. Since KIA found itself struggling with debts, it filed for bankruptcy.
A reason behind this failure is believed to be the excess production of cars owing to the limited demand in the country. Hence after one year, the company decided to merge with Hyundai and formed the Hyundai Motor Group.
3. KIA Vehicles are Easy to Maintain
Everyone knows that buying a car is still relatively easy but maintaining it is not. Luckily, KIA manufactures vehicles in a way that is easy to maintain. Even an annual check-up would be enough to keep the car in good shape.
And if you want to protect it further, invest in good KIA car insurance. This insurance will protect you against financial losses caused due to road accidents. Insurance will ensure you don't have difficulty keeping your car in a good position, from repairs to quick fixes.
Also Read - Powering Connected Car Innovations With Cloud
4. South Korean Army Uses KIA Vehicles
Although it is not well advertised, KIA has a whole military vehicle department that manufactures advanced vehicles for the South Korean army. It is estimated that approximately 100,000 trucks will be delivered by 2024 to the army.
What makes KIA's military vehicles special are the windshield folding and run-flat tires installed in those vehicles. Vehicles manufactured by KIA are expected to last between 15-20 years and have high-ground clearance.
5. Link of the Vehicle Grille with Tiger Nose
A distinguishing factor that makes KIA vehicles unique is their grille design. This design resembles a tiger shape. Broad nose-like features make the KIA vehicles easily distinguishable. Peter Schreyer designed this tiger nose design in 2007 with the sole intention of changing the brand's image.
If you notice the different KIA car models, you will notice the tiger nose is variable. It can be made smaller, higher, wider, lower, etc. It can also be paired with different headlamps. These vehicles' tiger nose design can be best described as flexible, unique, and recognisable.
6. Most Vehicles are Environment-Friendly
KIA took a bold step by moving towards an environment-friendly initiative and launching Soul Eco-Electric in 2014. It was the brand's first 100% electric car. The interiors of this car are made of bioplastics, especially the carpets and upholstery. The exteriors resemble the gasoline and diesel versions of the car. From the appearance, the vehicle may look like a small SUV that is perfect for family trips. The car comes equipped with lithium-ion batteries and alloy wheels to improve its aerodynamics.
Also Read - Maruti Suzuki Reviewed Its Memorandum Of Association To Embrace Web-Platform Business
7. KIA Motors is an Award-Winning Auto Company
If you keep a close tab on the news, you would know that KIA Motors has been awarded the J.D. Power Awards for six years in a row. For the uninitiated, J.D. Power has a strong team of experts in customer behaviour, analysts, and statisticians that focus solely on the 'voice of the customer.'
This company ranks automobile brands in terms of resale value, dealership experience, quality, driving experience, and reliability. KIA is among the fewest brands that have been winning the mass-market brand award for six consecutive years.
8. Usage of Innovative Technology
People who keep safety and vehicle performance over everything else should invest in KIA. The company is invested heavily in developing innovative technology that improves the vehicle's performance. It is why KIA also developed the ICT Connected Shift System, which is considered the world's first.
This innovative system enables the KIA cars to automatically shift to optimal gears while analysing the road and traffic conditions. This technology also analyses real- time data featuring curvature, elevation, and various road events. With this AI- enabled technology, drivers are guaranteed to feel safe while driving on any road and traffic condition.
Also Read - Fleet Telematics: Making Transport Smarter
9. COVID-19 Couldn't Halt KIA Sales
This automobile brand has been smashing revenues and sales for years. While car manufacturers worldwide faced challenges selling their cars during the COVID-time, KIA broke all its sales records. The company sold thousands of vehicles in 2019, and its sale of electric cars doubled.
While the world went under lockdown in 2020, KIA remained a hit in the market. The company saw a significant spike for its electric vehicles even during the COVID period, and it goes on to show the brand's popularity and trust among the general public.
10. KIA Stinger Has its Own TV Series in Italy
If you love watching Italian shows, you must have seen "Wishlist: the Stinger Method" in 2018. This mini-series featured top Italian celebrities, including Elettra Lamborghini, Ale & Franz, Sergio Muniz, and many more. They all used to perform three experiences while on the Stinger. KIA wanted the celebrities to go out of their comfort zone while letting viewers learn more about the model. This series managed to garner thousands of views and succeeded in its goal.
Drive Nothing but the Best for a Pleasant Experience
KIA is an already successful car brand with thousands of happy customers worldwide. It already has a fleet of impressive car models, and one can expect more from the brand in the coming decade. KIA cars are sturdy, stylish, and worth your attention.
Moreover, you can ensure they remain in good condition through timely maintenance. Suppose you have secured your KIA cars under the right car insurance. In that case, you don't have to worry about spending a hefty amount on repairs or other financial expenses arising from a road accident.
Kia Seltos, Kia Carnival, Kia Sonet, Kia EV6, and Kia Carens are some of the KIA car models that have left an incredible impression on people. Even if you're picky about the car you want to drive, you are sure to find a model that best aligns with your requirements. So go ahead and start looking for your dream KIA car today.